Westminster Mile 2019
Posted on: 27 May 2019
I was trying to work out how many times I had run the Westminster Mile.   I had to go back in my blog to check and the answer was five times previously and so yesterday would be my sixth attempt.  I am always happy to return to the streets in front of Buckingham Palace - it is one of my favourite days out of the year.
Yesterday would not be quite the same though.  Normally I come into this event with some semblance of fitness and ready to run a decent time.  This year, as you will know if you've been following my progress so far, I have been struggling with injury over the past several weeks.  I was going fine until I fell over and injured my back while out training.  The back is not too bad now but my arthritic left ankle has decided to come out in sympathy!  For several weeks I have been able to run but not very far and not very fast.  I had in fact entered two waves of the Westminster Mile aiming to go for broke in one of the senior men's races and then trot round in the parkrun wave.  As it turned out I would have to settle for the trot round with the parkrunners and I wasn't too sure how well that was going to go.
As I walked down into the tube and was limping down the stairs and struggling to keep up with the commuters, I pondered the wisdom of starting an athletic event.  Things didn't get better when I was on the tube.  I had forgotten that it was play off weekend for football teams at Wembley.  Charlton Athletic were bidding to get back into the Championship and most of their supporters had chosen to squeeze into my train carriage.  If you've ever been squashed into a tube carriage with a load of sweaty football fans ... well you'll know it's not a happy experience.  I hoped they might get off at Waterloo but Waterloo underground station was closed because of a punch up on the platform!  I eventually arrived unscathed at Green Park and the start.
My mood improved once I got to the Mall.  It was a sunny, quite warm day, a bit muggy with the threat of rain.   In front of Buckingham Palace hundreds of runners milled around watched by bemused tourists who had expected to see the changing of the guard!
My mood improved further when I bumped first into Max, then into Kath and her son Ben,  who I hadn't met before, and then John Adam, who I was also meeting for the first time.  I didn't have my phone or camera with me to record this momentous meeting so I shall have to borrow one of Maxine's.
So to the run itself.  I had entered the parkrun wave (wave 22) so was slightly put out when I was put into wave 23.  There were so many parkrun entries (over 700) that we had to spill over into the next wave.  In the end I didn't mind because Max, Kath, Ben and John also joined me in wave 23.  We were also joined by Paul Sinton-Hewitt, the founder of parkrun, who started just in front of us.  My tactics for the race - I chose to start near the back and go off very slowly.  This I just about managed to do.  I hadn't realised I was still behind the others until I came across Max on the corner of Horseguards going like the clappers, running like Donald Trump was chasing her!  I then passed Ben and John in Horseguards Parade.  I think my time at halfway was 3:50, which must be a personal worst.  In Birdcage Walk I picked up the pace a little bit and was passing lots of people.  In no time at all the finish line appeared and it was over.  I'm not sure what my official time was because, unusually, I forgot to look.  It was over seven minutes in any case.
After the run many of the parkrunners hung around to welcome in the later finishers.  The person we were all waiting for was PSH, who trotted around in around ten minutes.  Afterwards some of us posed for a photograph.  You can see me just behind PSH's elbow.

There was lots happening yesterday at the Westminster Mile.  Mo Farah was there and was happy to pose for selfies as Max and Kath found out.  Mo joined in the wave just before ours and trotted round in about six minutes.
In the same wave as us were international athlete Steph Twell and her husband Joe Morwood who managed a world best for the mile whilst holding hands!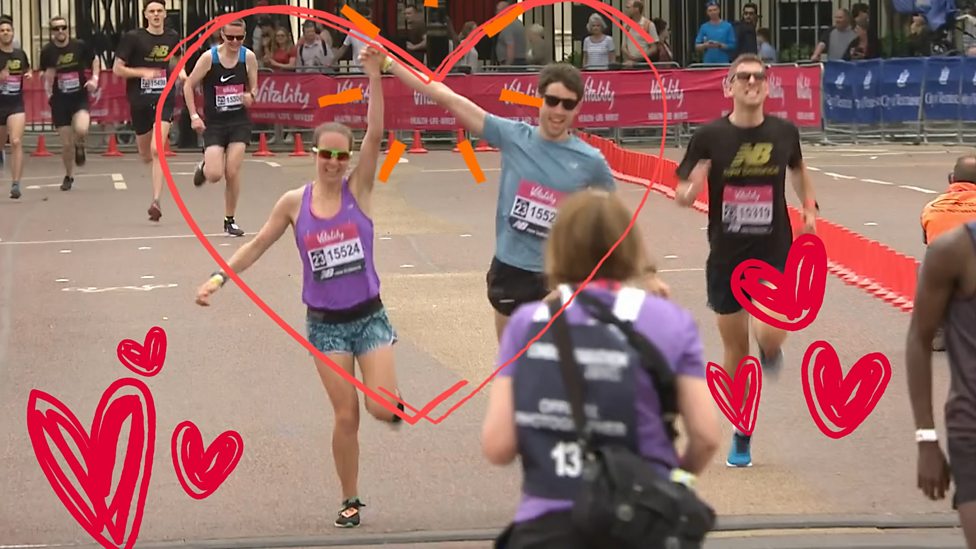 The England cricket squad were there and jogged/walked round to raise money for the Ruth Strauss foundation.  Ruth Strauss, who sadly died of lung cancer, was the wife of Andrew Strauss.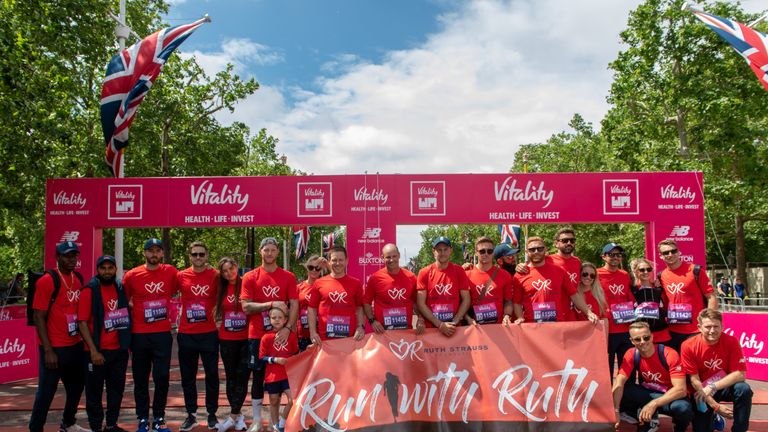 There's a whole lot more I could tell you about the Westminster Mile but I think I'll leave it there.  It is now on the BBC iplayer so you could watch the whole thing, or maybe just the parkrun section which begins at about 3:33.  Do consider coming to the Westminster Mile next year.  It's a brilliant event and you might find yourself running alongside a legend (and no, I don't mean me!)
Tell us your story
Inspire and be inspired by sharing your health or fitness journey. Your blog will provide you with a permanent record of your progress, with the added bonus of motivation and encouragement from our members along the way.
*
Manage my blogs