Southwick Country parkrun
Posted on: 13 Nov 2021
Would you believe it?  It's twelve days since a car demolished the BT box at the end of our road and we still have no phone line or broadband.  I am having to write this in a corner of the house, with the window open, in the hope of catching a faint signal from a BT hotspot.  I can only hope that when I press Send you will be able to read my latest parkrun report.
My parkrun odyssey this week took me back to Wiltshire and to Southwick Country parkrun.  I have seen quite a bit of Wiltshire in recent weeks with visits to Swindon, Chippenham and Melksham.  I was hoping that today's effort would see me all Wiltshired out!
Southwick Country Park is just south of Trowbridge, the county town of Wiltshire.  Trowbridge is a town with a history going back over a thousand years.  It is listed in the Domesday Book as Straburg.  The derivation of its later name is uncertain.  There is no confusion about 'bridge' - there is a bridge here over the River Biss.  "Treow - bridge" could mean tree-bridge or it could refer to the name of a former landowner.  Whatever the case, Trowbridge was considered important enough by the Anglo-Normans to build a castle there.  Trowbridge Castle lasted into Tudor times, later fell into ruin and only tiny remnants of it still remain today.
For centuries the main source of prosperity in Trowbridge was wool and cloth making.  Cloth was made by traditional methods since the Middle Ages.  Technological advances meant that by 1820 Trowbridge had more than 20 woollen mills and was sometimes called the "Manchester of the West".  The wool trade later declined and the last mill closed in 1982 but other industries came along to take its place.  There is still a major bedding industry in Trowbridge, also brewing and food production.   Trowbridge still retains an attractive town centre with lots of fine old stone buildings.  There are also various industrial units to provide employment and a selection of sports and leisure facilities.  With the creation of new housing developments the population of Trowbridge has grown to around 39,000, making it the third largest town in Wiltshire.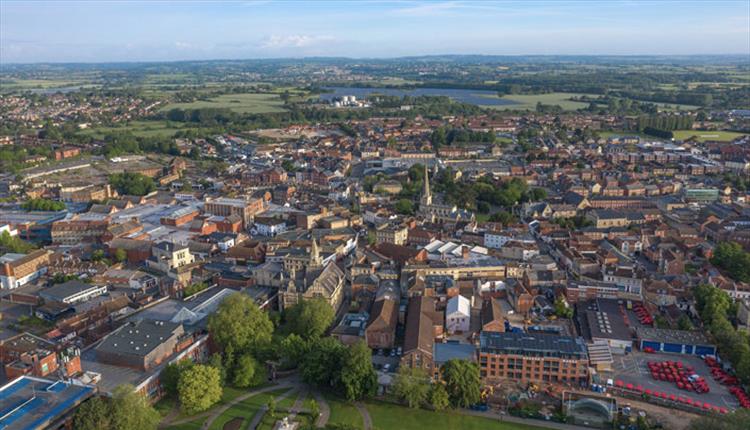 Just to the south of Trowbridge lies the little village of Southwick and just outside the village is Southwick Country Park.  The park comprises around 150 acres of mainly open fields with occasional patches of woodland.  It is bordered to the west by the Lambrook stream.  In one corner of the park you will find the Hope Nature Centre, where you can encounter a variety of farm animals, including alpacas.
The course at Southwick comprises two and three quarter laps of a roughly triangular route.  The surface is mostly gravel paths and the route is slightly undulating, with a bit of a climb on the way out and a descent towards the end of the lap.  Southwick parkrun has been going for over ten years now; it's one I've always meant to attend but never quite managed until today.  No matter - I made it in the end!
I thought the course might lend itself to a fastish time although today it was a bit wet and slippy on top.  I set off quite well and moved along steadily.  I completed the first lap in just under eight minutes and the second lap in just under sixteen minutes.  I wondered if maybe I could improve on my best time for the year (22:14) and perhaps I would have, if I had put in a big sprint towards the end.  As it was, I crossed the line in 22:19, which gave me 18th place.
My statistics for today - that takes my total of parkrun venues up to 233.  I was first in my age group and fourth overall on age graded scores.
One added bonus today - I finally got to meet Martin Pearce who has been a Facebook friend for years, but has never previously crossed my path.  Martin was the photographer at today's event and took many excellent pictures including the one below.
As always I finish with a YouTube video.  This is Southwick parkrun on a sunnier, dryer day.
Tell us your story
Inspire and be inspired by sharing your health or fitness journey. Your blog will provide you with a permanent record of your progress, with the added bonus of motivation and encouragement from our members along the way.
*
Manage my blogs