The Great Field parkrun
Posted on: 27 Nov 2021
So, the latest news.  BT have still not restored our phone line, so we are approaching a full month without a phone connection or broadband.  On the plus side, they have sent me a mini hub so I am able to reconnect with the internet.  As for my shoulder, which I damaged in a fall last week - it still hurts, but not badly enough to stop me from running.  So off I went for another parkrun this morning.
A late change of plan today.  I had originally intended to head northwards up the M1 but then I saw the weather forecast with its threats of gale force winds, freezing temperatures and possible blizzards and so I thought it might be wiser to head off in a south westerly direction instead.  Thus it was I found myself headed off in the direction of Dorchester and the Great Field parkrun.
Dorchester is the county town of Dorset, lying on the River Frome.  It has a history dating back to ancient times.  The Romans arrived here nearly 2000 years ago and constructed a garrison with the name Durnovaria.  They also built an aqueduct and an amphitheatre.  There are still traces of Roman walls in the town today.  After the departure of the Romans, the town diminished in significance, but during the medieval period became an important commercial and political centre. It was the site of the "Bloody Assizes" presided over by Judge Jeffreys after the Monmouth Rebellion, and later the trial of the Tolpuddle Martyrs.  By the nineteenth century Dorchester had become a thriving market town - the centre of the rural economy.  The town features prominently in the novels of Thomas Hardy under the name, Casterbridge.  Nowadays Dorchester is home to around 20,000 people.  They tend to work in public services, such as health and education, or else in one of the six industrial estates which ring the town.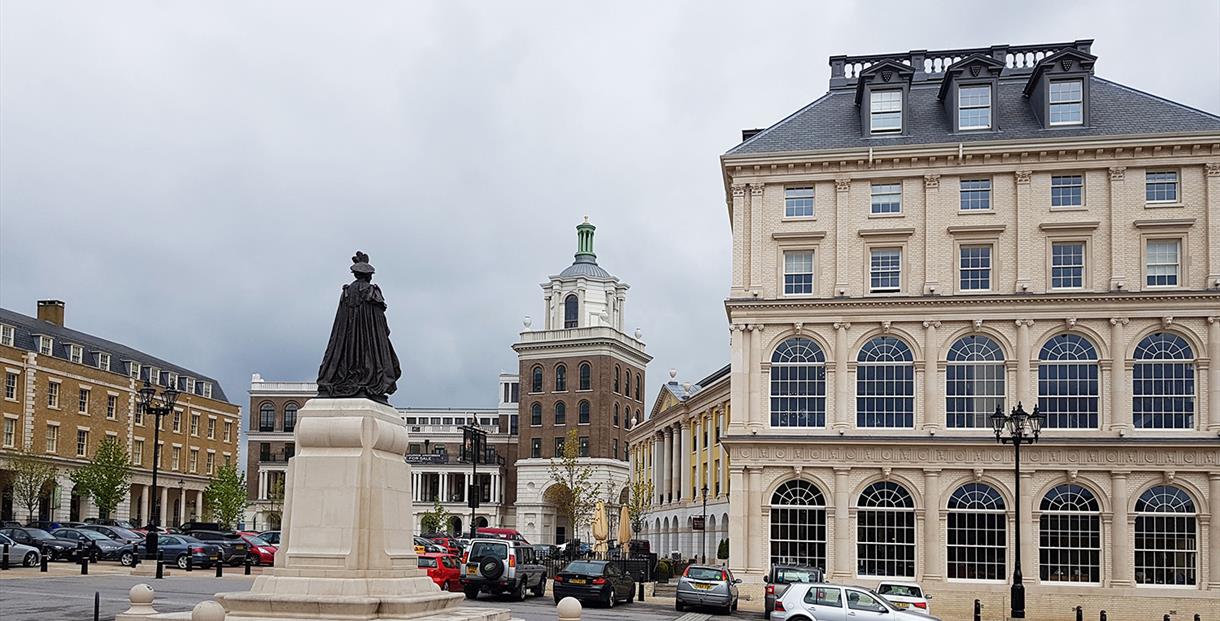 To the north western side of Dorchester lies the district of Poundbury.  Prior to 1987 there wasn't much here but then the local landowner, a certain Prince Charles, in his role as caretaker of the Duchy of Cornwall land, chose to use the area as the site of a new town.  The award winning architect Leon Krier was selected to produce the plans for the new town and work started in 1993.  The building work is still ongoing and is expected to continue until 2025.  The remit was to produce new homes and businesses which were modern but also traditional in design.  No concrete, no glass and steel, no brutalism, everything in a vaguely classical style.  It has won praise and awards for preserving traditional styles.  It has also received derision for being "artificially nostalgic".  Personally, if I had to live in a new town, this is the sort of place I would choose to live.  When completed, Poundbury will offer homes and employment to around 6,000 people.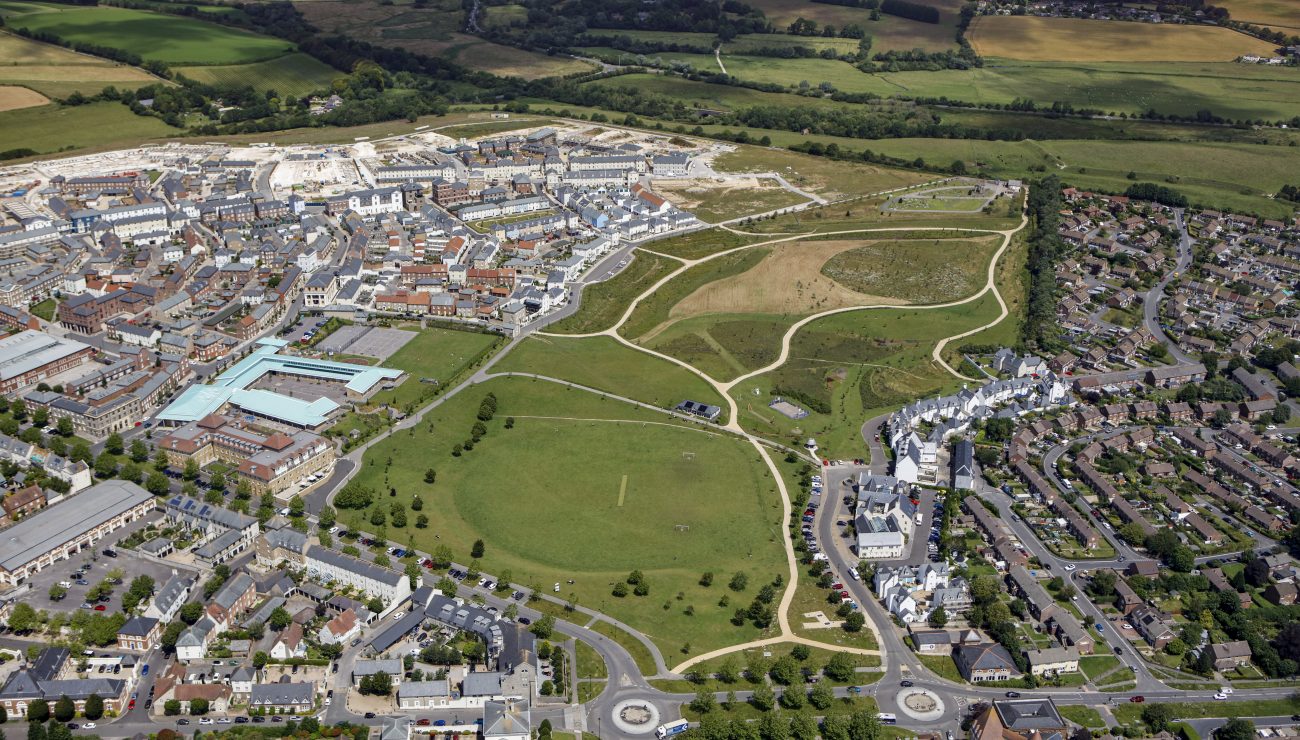 Every new town needs a nice park to provide some greenery and open space.  In Poundbury there is a large area of grassland known as the Great Field.  It's not the most imaginative name but it certainly is a Great Field!  It is a broad open expanse of grassland with a gravel path running round the perimeter.  The parkrun course consists of three and a half undulating laps of the gravel path.  Great Field parkrun is a recent addition to the parkrun family, this being only run number 5 but it does seem to be attracting good sized fields (255 today).  A lot of the starters in the early weeks are obviously tourists but there also seems to be a good turnout of local runners.
It was one of those mornings when I queried the wisdom of these long trips.  The weather seemed to be very dodgy on the way down, I could feel the wind blowing the car across the road.  On two occasions I had to make detours because of fallen trees.  I was relieved therefore to arrive in Poundbury in one piece.  The conditions were relatively bright but with a very strong icy wind blowing across the field.  I wrapped myself up as warmly as I could and set off in the middle of the field.  I seemed to run better once I had warmed up a bit (not easy today)  The wind was icy cold and, at times, I worried it might blow me over.  I was lapping in just under seven minutes, which was okay and was still overtaking people near the end.  I came in in 35th position in a time of 23:04.  Not my best but, I reckoned,  reasonably good in those conditions.
My statistics for today - that was parkrun venue number 235. I was second in my age group and ninth overall on age graded scores.
So I enjoyed my trip to Poundbury.  It's one of those places I've been meaning to visit and I'm sure that, if I lived there, I would be spending my Saturday mornings at the Great Field.
Someone did a video of the Great Field parkrun, so if you'd like a quick glimpse, here it is.  They had better conditions than we did!
Tell us your story
Inspire and be inspired by sharing your health or fitness journey. Your blog will provide you with a permanent record of your progress, with the added bonus of motivation and encouragement from our members along the way.
*
Manage my blogs