Salcey Forest parkrun
Posted on: 11 Dec 2021
There was a parkrun first for me today with my first run in Northamptonshire.  I don't believe I have previously run any race in this county.  Mind you, I would struggle to name any town in Northamptonshire apart from Northampton.  My destination today though wasn't a town but a forest … Salcey Forest!
Salcey Forest is situated just to the east of the village of Hartwell and north of the town of Newport Pagnell.  It is a remnant of a vast medieval hunting ground (although I doubt whether the M1 or Newport Pagnell services were there in the Middle Ages)  The original forest must have been huge because the bit that remains is still pretty extensive (160 hectares)  It is fairly dense woodland although there is a broad open space, known as Salcey Lawn, in the heart of the forest with a cluster of buildings in the middle.
For centuries the forest was a popular place for recreation, for hunting and for gathering timber.  Reminders of the past can still be found, with several miles of ancient woodland, building remains and ancient trees. The 'druids' or veteran oaks in Salcey are rare and distinct wildlife habitats, and some of the veteran oaks are believed to be over 500 years old.
In the Second World War a large RAF base was constructed in the forest.  This was not an air base as such but a large storage and maintenance depot.  As the depot grew it was necessary to cut down and remove a large number of trees.  At first a traction engine was used but then someone came up with a more novel suggestion.  Two elephants from a travelling circus were brought in - people who had travelled in Asia had seen elephants doing forestry work.  After the war the elephants went into peaceful retirement at Chester Zoo but their efforts are commemorated in the names of some places in the forest.  There is an Elephant Walk and an Elephant Pond.  The RAF depot was closed decades ago though you can still find a few concrete remnants.
Nowadays the forest is a popular visitor attraction.  There is a large car park with a café and a children's play area.  One of the most popular attractions is the treetop walkway, a series of ramps and steps which gradually lead you upwards until you reach the top and get a view out over an ocean of trees and, in the distance, the bright lights of Northampton!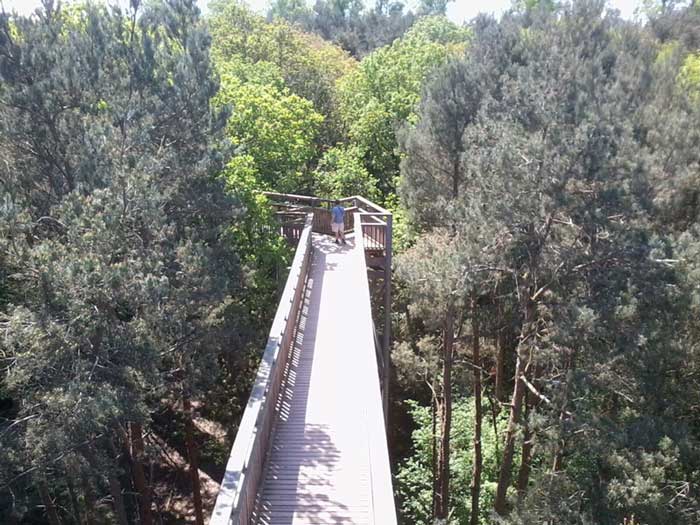 The course at Salcey Forest is that rare thing - a one lapper, starting and finishing near the car park.  It is all on tracks and paths through the forest.  It is mainly flat.  Some of the tracks are fairly smooth and even.  In other places the route was a bit more uneven or slippy.  
These days Salcey Forest usually attracts around 100 starters and there were 92 runners and walkers there today on a morning that was bright and slightly chilly.  There were quite a few dogs as well and I found myself behind a couple of them as we set off towards the first corner.  Someone took a picture of the field as we took the first bend.
Once I had got going I was moving pretty well.  One path through the woods looks pretty much like any other so it was different to work out where we were on the course, other than by looking to see how much time had elapsed.  When Salcey Lawn started to appear on our left, I knew that we were in the latter part of the course.  Looking at my watch I thought I was on for a super fast time but Salcey has one of those courses that approaches the finish area but then takes you away on a detour.  Eventually I came into the finishing straight and crossed the line in 22:31 for 13th place.  Someone took a picture as I approached the finish.
I was happy enough with that.  It was about a minute slower than last week but then I reckon the course was a minute slower.  Salcey Forest is a nice place to visit and if you are in the Northampton area, I recommend a trip there.
My statistics for today - that brings my total of parkrun venues up to 237.  I am steadily getting nearer to my target of 250!  I was first in my age group and third overall on age graded scores.
If you would like a quick look at the course, here's a YouTube video which squeezes it into forty-two seconds.
Tell us your story
Inspire and be inspired by sharing your health or fitness journey. Your blog will provide you with a permanent record of your progress, with the added bonus of motivation and encouragement from our members along the way.
*
Manage my blogs