Y Viva España
Posted on: 25 Nov 2015
Apologies - been away for far too long. I used to post everything here and also to my website. And then one day I was short on time and sort of got out of the habit. I know you've been busy here. For me chapter and verse is available in the blog. But for now I hope to get back into the habit of posting here too :-) And there follows an account of a wonderful trip to Valencia a week and a bit ago - thanks - Keith
It's Different For Girls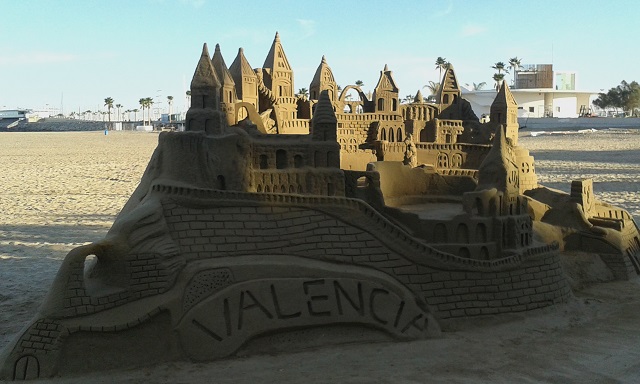 I leave the apartment at 7:00. That should be plenty of time to reach the City of Arts and Sciences where the marathon will start. My plan is to take the metro to Alamada and walk a couple of km or so from there to the start. I head for Turia metro station, noting that on the same corner there are people already queueing for the other alternative, the 95 bus. Surely there will be extra transport today. But I am surprised that there is no train expected until 7:30. There are a couple of locals there heading for the start. "Hola" they greet me. But I am starting to get worried – that's a long time to wait. Not wishing to appear rude I point upwards, "bus" I say and head towards the exit. Ahhhh "bus" they repeat and follow me out of the metro and into the bus queue.
Clearly no bus has yet come and the queue has grown. I have so far been amazed by the number of people they cram onto the buses here but I am starting to doubt the feasibility of this. As 7:30 approaches I tap one of my new Spanish friends on the shoulder. Not wishing to appear rude I point downwards, "train" I say and head towards the metro. Ahhhh "train" they repeat and follow me back down to the metro.
And so we arrive at Alamada at about 7:50 – still plenty of time to make it comfortably We head along the Turia towards the start. I worked all this out on Friday. I know exactly where to go to leave baggage and go to the start pens. But this time I attack from the rear, and there are thousands of people (made worse becase the 10k run starts at the same time), and it seems impossible to find a proper signpost, or anyone to ask, and I'm walking round in circles trying to find the baggage drop. Well eventually I find it (by following the 10k baggage dropoff signpost). Starting to feel a bit happier now – just got to find the start pen.
Hmmmm – no more luck here. I'm starting to panic. But I'm getting the hang of this language thing. I see someone wearing, like me, a white number, point to it and say "where". "Ahhh blanco" – he understands and beckons me to follow at which point he apologises for how poor his English is!!! Well we establish it is his first marathon and he hopes to get around in about 5 hours, and I'm hoping for about 4:15. We see the 4:15 pacer in a pen, he points to the entrance, wishes me good luck, and is gone. However, there is no way they are going to let anyone with a white number into that pen. I fear we are the dregs – the ultimate poor relations – I am directed to the very back of the queue. But I guess this is a blessing in disguise. I arrive at about five to nine, right at the back, realise this is an ideal opportunity for yet one more comfort stop, and return to the back of the queue feeling quite relaxed.
Apparently there is a minute's silence in recognition of the terrible events in Paris earlier in the weekend, but we're too far back to know what is happening. But suddenly everyone in front starts applauding, and we naturally join in. The marathon starts at nine o'clock, with the white wave's official start being at 9:06. We are off, walking, we start to walk faster, but I'm feeling strangely reluctant to start running. But eventually there's no choice and I start to trot, turn right across the start line, and off towards the beach. My plan is to try and run somewhere around 6 mins per km and to try and get close to my London time, 4:17. But I know I'm hopelessly under-prepared for this compared to Paris, and I've also spent best part of three days sightseeing – hardly perfect preparation. My legs are feeling heavy right from the off.
But I have my two supporters, my daughters Madeleine and Anneliese (who henceforth we will refer to as, in strict birth order, M and A). M has developed a real talent for working out spectator plans for big city marathons and A has developed a similar talent for doing what her sister tells her. The first half of this marathon occupies quite a small space with various 'u' turns and going back down the other side of the road, and they see me four times in the first 20km.
For me this all seems rather like hard work. It's never great when you are overtaken by someone pushing a buggy! I can't believe how easy it all felt in Paris. How could I have knocked out km after km about thirty secs faster than here, throwing in a couple close to five mins/km in the middle (admittedly downhill). I'm struggling a bit to make sense of the official timings, but I reckon I'm averaging pretty dead on six mins/km through half way and beyond towards twenty miles.
At times I switch garmin to look at heart rate rather than pace, not necessarily because I'm interested, but more because it's something different to look at and will maybe stop me obsessing about the odd second here and there. But then suddenly my heartrate is all over the place. By rights I should probably be dead. But I don't feel (quite) that bad. I console myself with the thought that it's probably down to the cup of Powerade that I recently tried to take on board, most of which I ended up wearing. But that avenue of distraction is now lost to me. Inevitably it pans out that there are people going at exactly the same pace as you are, and they stay around you for mile after mile. Curiously one of them was a girl on rollerskates. That looked like a lot less effort than running!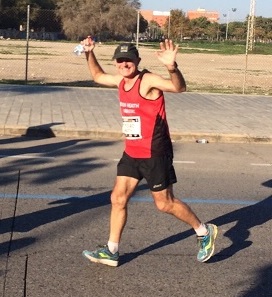 At one point I come up behind and pass Marion from Saturday's breakfast run. She looks like she is finding this hard work. But there is no way I am going to see anything of Pete (3:24) nor Alan (3:35) from Saturday morning, nor Ian, who used to run with Egdon Heath Harriers (3:30). At one point a chap comes up behind and compliments me on my Egdon Heath Harriers running vest – "Flat On The Average" it says on the back and as people tend to say these days, he "totally gets it" noting that he comes from Norfolk where it really is flat! We head briefly through part of Valencia's beautiful old town where M and A see me for a fifth time. I am pleased to be able to slip past the 4:30 pacer and his entourage.There is great support in the old town. There seem to be numerous drumming bands, and loads of noise.
But 20 miles is the furthest I ran in the build up to this, and as I reach that milestone body really wants to stop and walk. But at the same time heart and head really don't want to stop and walk. So we reach a compromise. There is a little square with some nice looking shrubs in the middle. Now the more you read this blog, the more you might think I'm obsessed with this aspect of running. But to be honest this was something I continually fretted about at the beginning of this journey. So excuse me for getting it out in the open (as we frequently do!). It's so easy for us guys isn't it? But it's different for girls. An inconvenient struggle to locate a convenient (and vacant) portaloo? So I duly find a small unoccupied gap in the shrubs. And I'm just about to get going when there is a rustling sound and a lady appears from the deep undergrowth. She brushes past, sadly (as the old joke goes) she didn't have a stroke, and before I know it she is gone. And within a minute or so, so am I.
But now I know the km splits are starting to creep up. I am disappointed to see the 4:30 pace group slip back past me. I try some head music. I choose the longest song I know – "A long long time ago, I can still remember how, the music used to make me smile ...". But there's too much going on – people bashing drums and stuff. I know they mean well, but I'm really just wishing they'd shut up and leave me in my own little bubble. And I try the old parkrun trick – c'mon just two parkruns to go now – but these are going to be two of the toughest parkruns ever. And by now garmin is about 500m ahead of the official markers – I know I'm going to be finishing closer to 43 than to 42 km.
And then I come up behind a race walker – seriously, this guy is walking and I can't overtake him. I push hard and have just about enough strength to crawl past. Now you may recall in Paris I had this strange experience at about 40km when my left big toe suddenly felt like it had been stung. And scarily something very similar happens here to the same toe at virtually the same point. For 500m or so it's so painful I can barely run. But it eases. And now I know the finish is so close. I start to push on a bit, knowing the end is near. We turn into the City of Arts and Sciences, running between the spectacular buildings. M and A have found a viewing spot and give a massive cheer as I go past. We turn right by the entrance to the science museum, across a little bridge and then swing left and the end is there 100m or so away.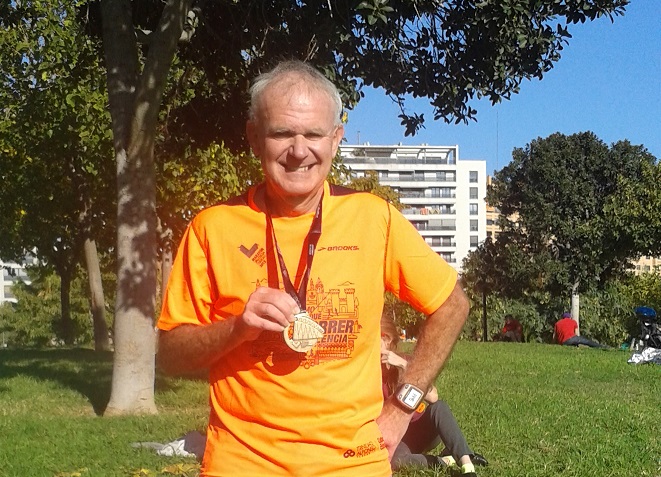 Certainly not the same elation as in finishing London and Paris – I'm just mightily relieved. Walking seems really difficult. I claim my medal and goodie bag, I am space-blanketed, and I struggle out of the finish area and sit down on a wall. I feel ravenous and demolish most of what's available and then set off for the logistical nightmare of baggage reclaim and meeting up with M and A. Around the far side, a good few people are paddling in one of the pools that surround all the buildings here. I'm sorely tempted, but carry on to reclaim my bag, a quick change and phone M and A. They are back over by the science museum. But that's the other side of the course – how can I get across there? – ahhhh – Ulrika – over the bridge.
Just about make it up the steps and as I head across there's a friendly greeting from a couple of ladies – "how did it go" – hmmm "found that really tough" – so we head off over the bridge together. I have just met Ingrid and Abi from Dudley Kingswinford Running Club, Stourbridge (no less) and they are off for a beer! And they would like a mention in the official UK Valencia Marathon run report blog entry! (no problem). They tell me they will be 100 next year (combined), and to celebrate are heading off to the Big Sur marathon in California – (ahhh – I see that's listed in the world's best marathons in the guide that my old pal Tim lent / gave me – looks amazing). Well far be it for me to reveal anyone's age – just to say that Abi confesses to accounting for 40% of those 100 years, and Ingrid 60% (you could have knocked me down with a proverbial feather) and has just run Valencia in 4:24, apparently in much less discomfort than me, and comfortably inside London GFA time! But there are M and A and we say farewell – "I know her" says M (my arbiter of good taste) straightaway – "she was two rows in front on the plane!" adding that she got on and immediately declared "right who's going to the marathon?" (or something like that). Well anyway, that's another one two for the fan-club Ingrid :-)
Monday and it's my chill out day. The central market in the morning is vibrant, and I have booked a late lunch at La Pepica, Valencia's best known restaurant, apparent beloved by Ernest Hemingway and Spanish Royalty (among others) for (yet even more) Paella. By the end I'm feeling strangely mellow. As the saying goes "if he'd been any more laid back he would have been comatose". And indeed as I head onto the beach to catch the late afternoon sun, I very soon am. Then to the end of the marina to catch the sun setting over the city.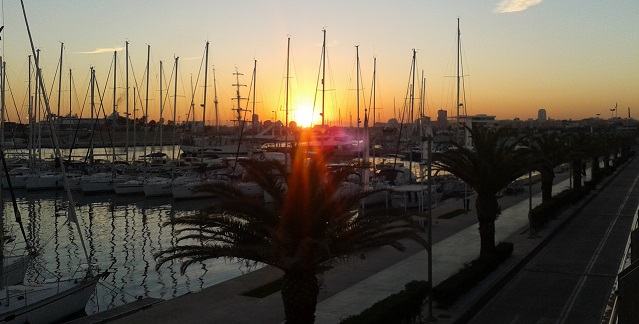 I aim to always be respectful of the great marathon gods, and in the circumstances I really could not have expected that run to be much quicker or indeed much easier. Running marathons was never meant to be easy was it? The irony is that of the four road marathons I've now completed, my PB in Paris was by far the run where I dug the shallowest. And whatever I may have written here this was a quite brilliant weekend. Keith's Marathon Dream lives on beyond Valencia. Might there just be a London GFA somewhere inside me for when I reach sixty? Indeed I feel there must be one more Valencia blog entry to come – (yet) one (more) of my "State Of The Nation" addresses. Watch this space.
Just a few thanks. To Natxo – my Valencia marathon blogging contact.To Rory whose excellent flat we booked through Airbnb, and to Olga his friend in Valencia, who welcomed us and was on hand should anything have gone wrong (which it didn't) – Olga – you really should do the full marathon next year! To Pete (legend) and Alan from Hailsham Harriers in Sussex, and also Marion, from breakfast run on Saturday. To former Egdon Heath runner Ian – sorry we didn't manage to meet – it sounds like you had a great time out on Sunday evening, but no way I was going anywhere. Especially to Ingrid and Abi – after the struggle that went before, meeting you afterwards was such a boost – have a great time in California next year – and maybe you will get a (combined) message from the Queen :-) And most of all to my greatest supporters (and newest facebook friends), M and A (or A and M) – it's always a joy to spend such quality time with you.
But just for now I am bidding Spain farewell (from a height of 34,000 feet). Valencia – warm on Sunday, but one seriously cool city. Can't resist a little song choice. I reckon Joe Jackson was pretty cool back in the day too. It's Different For Girls. Apologies for going on. Thanks (so much) for reading,
Keith
Tell us your story
Inspire and be inspired by sharing your health or fitness journey. Your blog will provide you with a permanent record of your progress, with the added bonus of motivation and encouragement from our members along the way.
*
Manage my blogs