Get Down Tonight
Posted on: 11 Jun 2015
Well I promised something of a magical mystery tour. I noted that this journey has taken me to places I never thought I'd go to. And now another. To date this has largely been a triumphant march through time and space, but this week something of a knock-back. But you have to take the rough with the smooth. Having achieved "official blogger to the Maratón Valencia" status I'm hoping that there's a whole new audience out there. So excuse me if you know some of this already.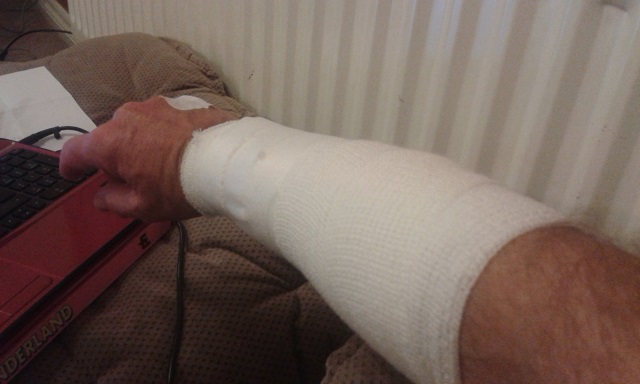 Latest Selfie
In lieu of running the London marathon in April, I decided Paris would be a great alternative, running on behalf of children's cancer support charity CLIC Sargent. And then, inspired by fellow SingleSport skier Claire, the idea that to do the London Surrey 100 mile cycle sportive in August would be a project of marathonesque proportions, a chance to ride with over 25,000 or so others up Box Hill and Leith Hill. And meanwhile, overcome with enthusiasm as the Challenge Ironman series came to our town, Weymouth, for the first time last year, and prompted by my lovely friend (and nemesis) Mrs Kim Fudge, I found myself committing to a half ironman in September (have you seen me swim?!?). And then, inspired by talk of naked farmers in bath-tubs, the "Love Station", cider stops and the post run barn-dance I couldn't resist the Giant's Head trail marathon in June. And then it was suggested that, having trained to run a marathon in April, it would be a shame not to use that fitness to run another, hence the North Dorset Village marathon in May. And then along comes the opportunity to be guest blogger and to run in Valencia (which I am really excited about – it looks like an amazing city). Talking about it in these terms it all looks a bit mad for a relative novice (note to self – "quiet one next year").
So what to do? I assume (maybe naively) that the trail marathon can largely look after itself. Time will definitely not be of the essence here, and I know there will be a good deal of walking for me (up every hill for starters!). But, I would never claim to be a serious cyclist, mostly riding five miles or so to work and back. And as for swimming – best summed up as "crap breaststroke". And I need to be up to riding 100 miles in August, and in September a 2k sea swim (followed by 56 miles on the bike and a half marathon). The focus this last couple of months has been the bike and the swim. And it all seemed to be going so well ...
Then last night I set off on the bike for an hour, starting off down the Rodwell Trail, a disused railway, now shared access between runners, walkers, cyclists, dog-walkers, blackberry pickers etc ... It has long been my belief that an area such as this works best if all users show due consideration for other users. If cyclists moderate their speed. If walkers do not walk six abreast. If dog-walkers do not use long leads (stretched right across the path). I would like to think of myself as just such a (considerate) user.
And I duly found myself faced by two cyclist coming towards me side-by-side. And they seemed totally oblivous to me. And I was forced right to own side of the trail. And before I knew it I was hitting a pedestrian. And then I was airborne heading straight for the walls of a World War II gun emplacement (now a viewing platform). Which was where my outward journey ended. With a large gash in my arm. But to add (literally) insult to injury, this is a regular hangout for some of the (IMHO) less desirable users of this great shared facility, the all day drinkers shall we call them? (or maybe worse) and before I knew it a woman (IMHO definitely no lady) was laying into me, telling me I wasn't a proper cyclist (probably correct madam but hardly the point) and that I shouldn't be cycling there (DEFINITELY WRONG) and the air had turned blue (hmmmm – not just down to her I'm afraid).
My sincerest thanks to the chap I hit (who even apologised – definitely not your fault) and another pedestrian who helped get me back on my feet and walked me some of the way back home. They advised a trip to Accident and Emergency. I had no opinion on the matter as I didn't dare look. And also to Jane from Egdon Heath Harriers who was passing and stopped to check I was OK. So the magical mystery tour led me to Weymouth Community Hospital and another new life experience – well and truly stitched up now. And now it looks like the biking and sea swimming will be on hold for a couple of weeks and it looks like my first practice triathlon, scheduled for Sunday week, will not be possible :-(
But where to go from here? I love the story of a good friend who spent one day of his honeymoon undertaking the "Mont Ventoux Challenge". Rated as maybe the most gruelling ascent in the Tour-de-France, Richard chose to ascend the "Giant of Provence" three times in one day! (note to self – Penang Beach - definitely a good choice of honeymoon location). If you want to be seriously humbled and inspired read the story of David Smith one of the most recent recruits to the Club des Cinglés du Mont-Ventoux. Only one way to go. Gotta get back in the saddle (and the wetsuit!).
#enrutaavalencia
Thanks for reading,
Keith
Tell us your story
Inspire and be inspired by sharing your health or fitness journey. Your blog will provide you with a permanent record of your progress, with the added bonus of motivation and encouragement from our members along the way.
*
Manage my blogs