Once More Onto The Beach Dear Friends ...
Posted on: 01 Apr 2016
At long last – just two weeks to go until Manchester, and back to semi-proper blogging. Last week I descibed this as my "Dementia Marathon". This is my third big spring marathon. The last two have taken over my life. Back in November, it seemed that this year would be so much about the marathons. Manchester in the spring – Berlin in the autumn – and an aspiration to run faster and just maybe to be able to qualify for perhaps the most iconic of all – Boston.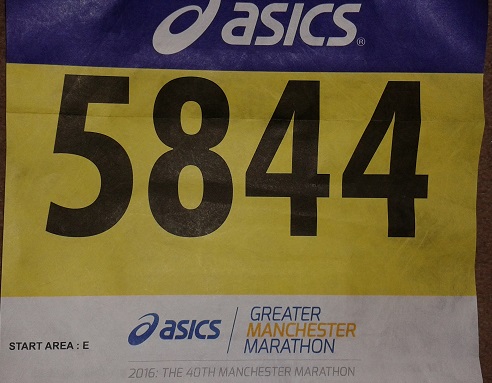 But inevitably, this year to date, marathon training has had to take a bit of a back seat. However, I've still taken the plan (the same one that got me under four hours in Paris last year) and for the most part stuck with it. I missed a couple of runs (including one long Sunday run last month) on account of the manflu. And on another Sunday, by the time I'd caught up with all the jobs I hadn't done, I just couldn't face it. Last year all my runs were uploaded immediately to Garmin, and at any point in time I could tave told you, week-by-week, exactly what I'd done and how many miles I'd done.
This year I don't have a scooby. Last year I didn't drink and ate well. This year saw many evenings spent with my brother Ian in the Red Cow, Sandwich, drinking copius amounts of the beer named after the dangerous Doom Bar sandbank at the mouth of the Camel Estuary in North Cornwall and eating sigificant "all day breakfasts". Most of all it's been an emotional roller coaster, dealing with so many mixed feelings, as mum's life was coming to a close, and other strange thoughts covering such uncharted areas as feelings and mortality (to name just two). I have no expectations whatsoever how Manchester will go in just two week's time.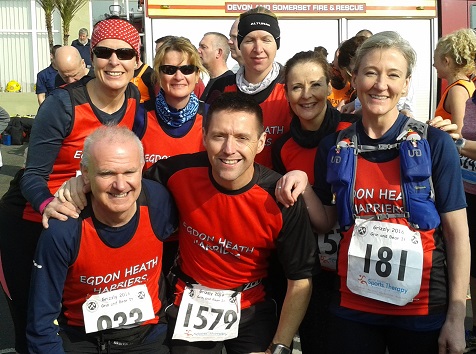 But there have been highlights. Two weeks back I returned to Seaton in Devon for a second crack at "The Grizzly". It seems to be something of a tradition for events like this that the Egdon Heath Harriers, rather like bananas, hang around in bunches. And, in this spirit, I duly took up my position among the "slower" group. On the face of it, this doesn't sound great! "Grin and Bear it" – "Twenty miles of Grime and Punishment"including a legendary bog – it is easy enough to find the grizzly on youtube (for instance https://www.youtube.com/watch?v=JxNM6e0Vo40). This event is superbly organised by the Axe Valley Runners, and magnicently supported by the people of Seaton, Beer and Branscombe.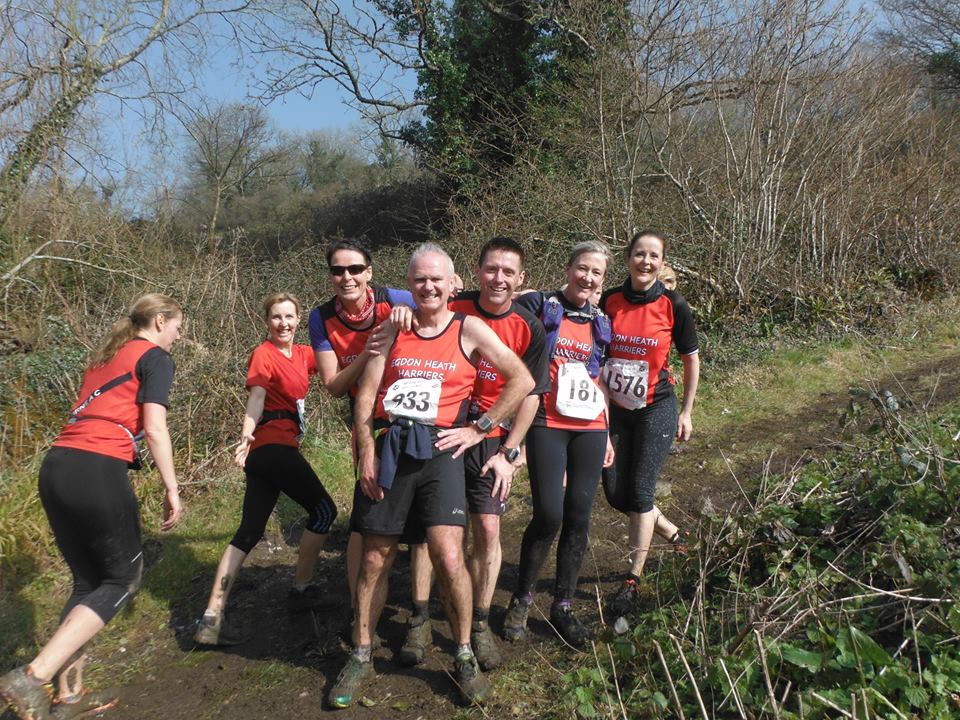 And so, as part of the Egdonites 'B' team, I set off alongside team mates Sue, Hayley, Lucy and Darren. As the only non-Grizzly virgin I think the others were hoping for some guidance. But in the event Sue needed very little, leading us around at a (for us) cracking pace. We negotiated the shingle beach, the river at Branscombe, the hills, the woods, (and most painful of all the bagpipes ;-) ), until we knew that the infamous bog was looming. Sue, who was proudly sporting a pair of those elasticated laces that make it so easy to get your shoes on (and take them off!!!) took one look at it and declared that she was going in bare footed! The marshals insisted that the only viable approach was to "keep moving". To one side was a "runner" who clearly had ignored this advice – sunk up to her waist.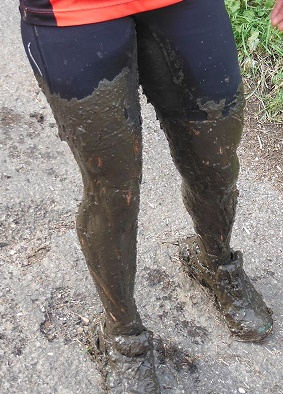 Keep moving we did. Now last year the bog was pleasantly liquid. This year it looked seriously gloopy! But at least the bog was considerably warmer than some of the (n)ice cold water they made us run through :-) Sue managed to wash off most of the mud, and before we knew it we were ascending a steep slope, accompanied by a medieval knight, reciting passages from Henry Five – "Once more onto the beach Dear Friends - Once more ... !!!"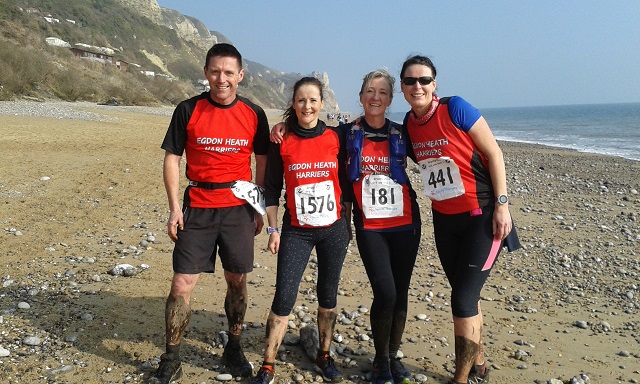 And onwards - back past the revellers at the Fountainhead in Branscombe - back through the river – and onto the beach – site of the "Grizzly Memorial". Last year I passed it by. This year I stopped and tied a ribbon to it and shed a little tear :-) Along the beach – up the "Stairway To Heaven" (where I sang) (under my breath) (thankfully) – through Beer – the last couple of hills – and the magnificent straight run down to the finish. Egdon 'B' joined hands and we had completed in just under four hours thirty. Special thanks to, in strict reverse alphabetic order, Sue, Lucy, Hayley and Darren - four more converts to the Grizzcult. And then off to be hosed down by the local firemen :-) Some runners seem to enjoy this experience more than others ;-) Don't know what would happen if there were ever a fire in Axminster on Grizzday.
My thanks also to Matt - hoping you don't mind me "borrowing" a couple of your photos :-)
Get Inspired
It's so easy to be cynical about the cult of celebrity, and the things they do (cue visions of "Smashie and Nicey"). Indeed, in the case of one well and truly discredited celebrity, people are even casting aspersions as to whether he did actually complete fairly the numerous fund-raising marathons for which he was famed, and which contributed so much to his dreadful "aura".
Since starting this running thing three years ago I have, almost weekly, taken my body to places I just didn't expect to take it, indeed places where it really didn't want to go. And yet, because of that, I've achieved things that I previously would have thought far beyond me. But of course there are so many other people out there achieving amazing things. To quote the great Bjorn and Bennie, "I'm nothing special". But maybe I can just about start to imagine some of the places where this incredible athlete must have been. Forget celebrity, comedy, charity, cross dressing, and millions of pounds raised. This stands alone. Eddie Izzard – Marathon Man.
And talking of people with the power to overcome adversity can there be many stories more inspiring than paralympian David Smith MBE?
Thanks for reading,
#aufdemWegnachBerlin
Keith
Tell us your story
Inspire and be inspired by sharing your health or fitness journey. Your blog will provide you with a permanent record of your progress, with the added bonus of motivation and encouragement from our members along the way.
*
Manage my blogs