Beside The Seaside ... Beside The Sea
Posted on: 05 Apr 2016
In the words of the great Mr Ned Flanders okely dokely – so where are we? Less than a week and I will be heading up the A354 and from there the A37, M5 and onwards up the M6 to Manchester. Easter was great with my elder daughter returning home for a couple of nights. Last week should have been the last hard week, with this week being taper week. But somehow I managed to miss (yet) another long run on Easter Sunday (a 15 miler). The plan was to get up early, but I failed dismally, then the bad weather set in, and the moment was lost.
I resolved to make it good on Monday, but then I worked Monday, and when I got home there was barely time to fit that in before taking Madeleine to the station. And in any case I just didn't FEEL LIKE IT. Never mind – I've had a couple of easy days – surely Tuesday is not too late! Leave work early, hit the streets and before you know it that will be done. And I duly leave work at four on the dot, go to get in the car – bugger – that front tyre is flat as the proverbial pancake – no way I can drive that – Britannia Rescue – before you know it five on the dot – no time now.
Wednesday was always a non-starter. This is getting too silly. Remember being told by Nick and Phoebe at RunningWithUs you can't miss out the miles at the start and expect to make them up the week before the marathon. Is this still the right thing to do? But I was out of work right on time Thursday evening, home and straight out onto the streets.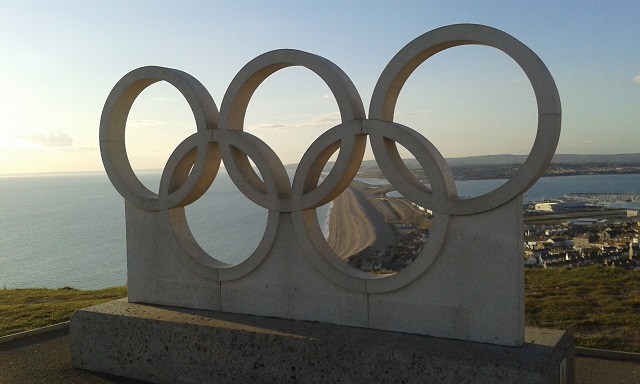 I determined to head over to Portland (nice and flat - not unlike my tyre) then turn around and head back into town and along the seafront. It was just a stunning evening. And when I got to Portland a change of plan – let's go up the hill and maybe a short loop of the island would get me there. No way I was going to run up the hill. Instead walk up the coast path and when we get to the top we can get going again, starting with a gentle trot back downhill. And all the time thinking how fortunate I am to live in a place like this, with such stunning views all around me. There were a few photo stops, including this view from Portland Heights, looking down over the waters which hosted the Olympic sailing events back n 2012.
And from there the long downhill run back down towards Portland Castle and the Sailing Academy - Simon from Egdon Heath Harriers is just finishing his run, and back over the causeway. Back on the Rodwell Trail and a brief meeting with Phil from parkrun and the folk from Weymouth St Pauls Harriers, and back home in good time. Regardless of the wisdom of doing it, a most satisfying two and a bit hours.
Friday and I finish work at one. The weather is looking promising and I take the opportunity to go into town and have lunch on the beach. The town is busy with plenty of visitors still in evidence and enjoying the beach.

And on to Saturday – parkrun day :-) I guess I have a special relationship with it, because he life span of Weymouth parkrun has so muchechoed my own lifespan as a runner. I was delighted to get involved with it when resting every Saturday in the lead up to London in 2014 and have since become part of the "core team". And in that time we have gone from being pleased to get 50 runners in the early days to a peak attendace of 323 for the centenary run last year. And this Easter both runs have managed around three hundred. As good as this is, it certainly is much more of a challenge to put on. I often reflect on what a great event we could put on if it weren't for all the runners! ;-)
The thing is I really enjoy volunteering at parkrun. At the moment I am convinced that I enjoy volunteering more than running. Below are some of this Saturday's first timer's. Clearly not all these folks are new to running but sure some are. And only this morning we were talking about it (more of this morning later) and saying how much the membership of our running club has grown since we had joined (and none of us discussing it had been members for more than three years).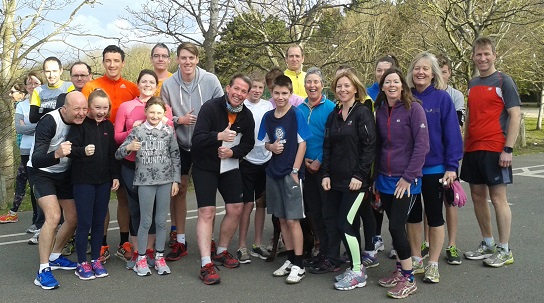 Someone (nameless) recently asked if I found running addictive (adding something along the lines of "well I suppose you must do!"). But I really don't think that is the case. Going back to the last blog entry I alluded to the the unpleasant places that I take myself to almost every week. Maybe on Sunday I run the Grizzly, and three days later I, in effect, throw in the equivalent of a 25 minute parkrun in the middle of a 10km training run – and just because that's what "the plan" says I should do. There is no way I find that addictive.
But what I do love about it is that positive effect that it has in me. There is no doubt that I have changed as a person since I started all of this. Now I'm not talking qualitively – I remain entirely agnostic as to whether I'm a "better" person for all this. But undeniably, I am a different shape, I feel so much different for a it an d I can ride further and walk faster. As they say "what's there not to like". And if it does that for me then it can surely do the same for others too – maybe some of those first time parkrunners :-)
And so to Sunday morning. According to the plan I need a little twelve miler on the final Sunday before marathon day. Two years ago I was up at six every Sunday morning determined to get that long run in as early as possible (before typically heading off to the Sailor's Return in town for a "full English"). But this year I just haven't had the same motivation. But today, inspired by the lovely springlike weather, Grizzly pacesetter Sue has suggested a sea swim at ten.
Back in the saddle then. Up at six, porridge, catch up with the washing up, and out of the door on the dot at seven. One thing I can say about this running lark is that running certainly keeps me going (if you get what I mean) and this likely requirement is an important determining factor in deciding a route. Today's plan is the seafront, including running to the end of both stone piers that form the mouth of the River Wey, all the way to the Oasis cafe, before turning around and retracing my steps. That should pretty well give me the required miles (whilst satisfying the other requirement).

I plan to run at around 5:50 per km and it's going ok. But as I head back along the harbour side on the way home I'm starting to struggle and obsessing about the km splits. And then one of those moments typical of another reason I enjoy this so much. Saturday's parkrun ceremonial "ragga" was Sally, a young lady from Woking visiting Weymouth. There is someone just about to start running and I'm sure it's the very same Sally from yesterday. The parkrun global village! "Do you run here every day" she asks? She is inspired by the surroundings that it is so easy to take for granted. And I feel strangely uplifted too, and before I know it have run the fastest two km of the day without trying.
And then as I head along the stone pier the other side of the harbour I meet four Egdon Heath Long Slow Runners coming the other way. I would love to be able to go with them but these guys are all heading for London in three weeks and are expecting to complete in about three hours. Their "long slow run" is my "too long and impossibly fast" run :-(
And so to Bowleaze Cove for Sunday morning swim. Sadly after the springlike weather of the last two days this morning feels much more wintry. But this is clearly all the justification that is needed for coffee and a sausage sandwich at the Lookout Cafe :-)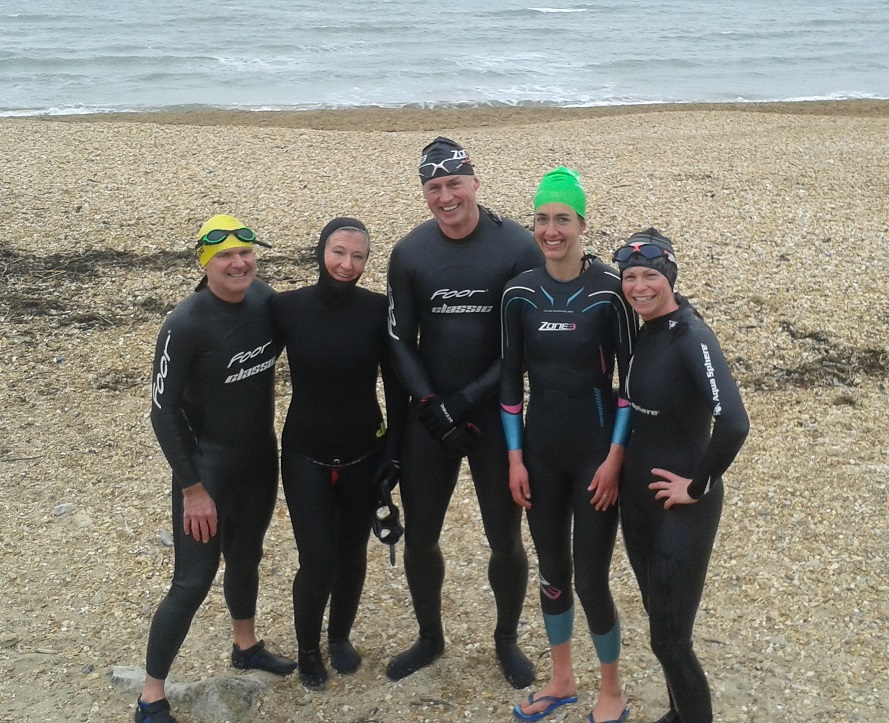 But I'm still not finished as I have a early afternoon appointment at "Weymouth's Oldest Pub" (the Boot) with former work colleague Paul. Well I thought I was bonkers to start running at 55. For his part Paul left it until he was 60 and is now sounding just about as evangelical about the whole thing as me. In four months his parkrun time has come down from thirty-one minutes to twenty-seven minutes. And now he's booked in for the Egdon Easy 10km next month. Surely the half marathon can't be far away :-)
Thanks for reading,
#aufdemWegnachBerlin
Keith
Tell us your story
Inspire and be inspired by sharing your health or fitness journey. Your blog will provide you with a permanent record of your progress, with the added bonus of motivation and encouragement from our members along the way.
*
Manage my blogs