Standing At The Crossroads – The State Of The Nation Address
Posted on: 03 Dec 2015
And so we come to the final address from the official UK Valencia Marathon blogger …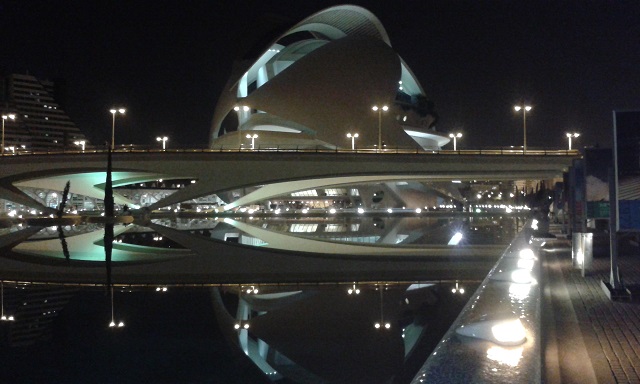 Running Has Changed My Life – Discuss
A number of people have said that. But it is something I've always shied away from. I've always associated it with redemption and rebirth. "I once was lost, but now am found". But surely I remain the same person that I was when I stepped on those scales back in 2013 – warts and all – certainly no better (though hopefully no worse). But does that matter? My life today is so very different from how it was then. So maybe I should admit it. Running has changed my life.
Running Keeps You Young – Discuss
Egdon Heath Harriers, tag line "Flat On The Average". Indeed – start and finish in the same place and that is an undeniable truth. But here's another thing. I always think of myself as being young. If I go somewhere I expect to be younger on average than the other people there. We all start off very young (Benjamin Button excluded). If you are new born and you go into a room containing a random sample of the population, you will be very "Young On The Average". I suppose we all rather get used to that.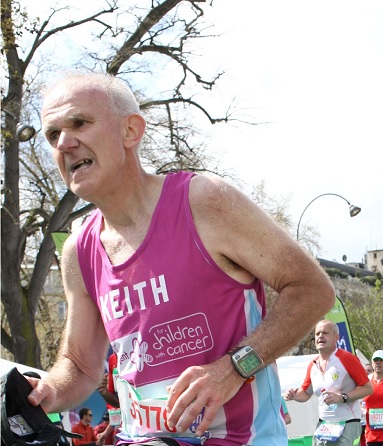 But there is a corollary (or maybe that should be coronary?!?). During our recent Weymouth parkrun does Menorca trip, I had to face up to the fact that out of the ten people there, I was, by several years, the senior citizen. So there comes a point where we cease to be "Young On The Average" and instead become "Old On The Average" – and the longer we go on, the older on the average we become.
Maybe the important thing then is how we handle this - recognising and coming to terms with this transition. Surely I ought to be pleased to have younger friends and to not feel out of place spending time with them (without recourse to a wheelchair). If I accept that running has indeed changed my life, then this is largely on account of the many new friends that I have made on this journey, many younger than I am.
But then again, I continue to be awestruck by so many that are "older on the average" than me. Just returning to Valencia there were two total "knock me down with a feather" moments. Firstly during the breakfast run, meeting with Hailsham Harrier Pete, who admitted to being 63, and who the next day completed the marathon in 3:24. And then, post marathon on Sunday, meeting Ingrid from Dudley Kingswinford Runners, soon to be 60% of 100, and looking as fresh as a daisy having just completed in 4:24 – comfortable London qualifying time there .
But it's not just about age is it? Nor is it about time. When I started on this journey I was in awe of so many people that I met. But now I start to appreciate that those things that you have done don't just happen. And I learn of the time, effort, application, mental strength, endurance, ability to overcome adversity etc. that lies behind it all. And a good many of those same people I now regard as friends, whose achievements remain no less impressive, but with such a willingness to help, share and inspire.
So does running keep you young? Of course not stupid!!! Clearly running can never prevent you becoming older on the average. But there are so many people out there, of all ages, doing great things. Put your mind to it and you might just be amazed by what you can achieve. And NEVER let age become a barrier to living your dreams.
The Paris Bombings
It would be difficult to write this without some mention of the dreadful events in Paris that happened that same weekend. We are reminded that there are things so much more important than sport, whatever the great Bill Shankly may have said (tongue firmly in cheek), and yet we are reminded too of sport's great capability to bring people together and to stimulate healing. I felt so emotional watching the singing of La Marseillaise at Wembley Stadium the following week. I would have so loved to have been there joining in. And then I was reduced to tears driving to work one morning by the words of Antoine Leiris, 'I will not give you the gift of hating you'. Today I look so much forward to the future. I just cannot comprehend a mindset that would advocate bringing immediate death and destruction both to others and to themselves. Yet unless you can understand your adversaries, how can you plot a strategy to combat them? I just don't know what the answer is. But I feel certain that, whatever it is, it has to involve much more than sheer military force.
Standing At The Crossroads, Trying To Read The Signs …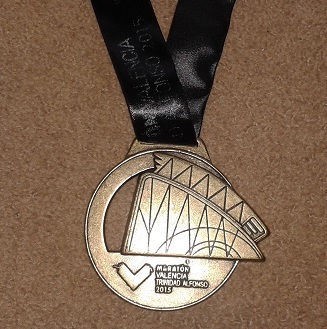 And now the curtain is about to come down on my time as Bloguer Official to the Maratón Valencia, yet one more unexpected, yet brilliant, twist along the way on this Magical Mystery Tour. Valencians – yours is truly a great city.
But where to go from here? Valencia was not a marathon I ever planned to do. But it was the icing on the cake at the end of one mad year - indeed too mad a year. To use a little running analogy, I really do have to learn to pace myself better.
Route 1 - My original marathon dream contract was fulfilled in Paris. "Run a marathon in under four hours" it said. But why not move the goalposts again? - knock ten or so minutes off and suddenly you are looking at London "good for age". And I fear there is another little seed planted in my mind (hmmm - thanks whoever did that!!). On the packet it says "World Marathon Majors". And seriously – why not? The only one stopping me is me. But that would involve running in Boston wouldn't it? And how do you get a place in Boston? Run faster!!! And how do you get to run faster? Offer up to the great marathon gods the sacrifices that they demand. And even then there are no guarantees.
Route 2 – But Valencia was great wasn't it? Marathon tourism at it's best. A great excuse to visit a great city, at a great time, and alongside so many great people. Running twenty-six and a bit miles sure is a tough way to spend your Sunday, but entirely worth it as part of the whole experience. Isn't that good enough? So many other great cities I could visit – Barcelona, Madrid, Rome, Prague, Budapest, Moscow, Amsterdam, Talinn, San Francisco, San Diego, Carmel?!?, Manchester, Liverpool, Edinburgh, Dublin? (just for starters - that lot should ensure I do need a wheelchair ;-) ). You still pay the great marathon gods their dues, but surely with a bit of a discount!
Route 3 – But then again, I remember telling myself in Paris at around 35km "you really don't have to put your body through this again you know" – and that was the marathon that I'm claiming was actually the easiest to date. So why bother? Just run for fun. And find another hobby (maybe salsa dance – honestly love to be able to do that properly Ellie).
You may have realised that I love songs (though I remain sadly ignorant of so much of the most contemporary of contemporary music). Sometimes you re-discover a song that maybe you'd written off years ago. And in this case it's a song that I wrote off forty of so years ago. And maybe now, as I contemplate marathons ... and running ... and maybe life ... this pretty well sums up so much what I'm thinking - a song that will now forever be intrinsically part of my Maratón Valencia experience - "Let It Grow". But apologies because on this occasion, should you wish, you have to suffer me singing it.
Again, thank you so much for reading, and commenting, and listening, and indulging (if you did),
Valencia Adiós,
Keith
Tell us your story
Inspire and be inspired by sharing your health or fitness journey. Your blog will provide you with a permanent record of your progress, with the added bonus of motivation and encouragement from our members along the way.
*
Manage my blogs