Manchester Marathon ... You Always Take The Weather With You
Posted on: 13 Apr 2016
It is a truth universally acknowledged that I only run big city marathons on sunny days. But we know too that it always rains in Manchester. Something had to give. It was rainy on Saturday night. I know where my money lies. Sunday April 10th 2015. I set the alarm for 6:30 but I am awake before that. A quck glance out of the window reveals wall to wall blue sky – First result of the day - Keith 1:0 Rain. Turn the alarm off and time for a quick shower. Unbeknown to them the Manchester Campanile supplied this morning's breakfast yesterday when I managed to secrete about my person (not saying where) a carton of "just add water" porridge and a banana, as I walked out of breakfast. Out of the door at 7:15 on the dot, heading for Cornbrook metrolink station, onwards to Old Trafford, and hopefully an 8:00 meet with folks from the realbuzz community by the baggage dropoff. It may be sunny but it is also b#$££y cold. Do my eyes deceive me or is that frost everywhere?
First nice surprise of the day. I board the tram and the first person I set eyes on just happens to be wearing a Dudley Kingswinford Running Club hoodie – well the President (I think) of DKRC just happens to me one of my FB friends – remember - a brief encounter on the bridge at the end of the Valencia marathon. She looks slightly perturbed to be approached by a stranger – "do you know Ingrid?" I ask – yes of course she knows Ingrid (and Abi). And so now I have also met Lisa from Dudley Kingswinford, attempting distance for the first time! "Nice and easy" is my parting shot – HA - YOU CAN TALK!!!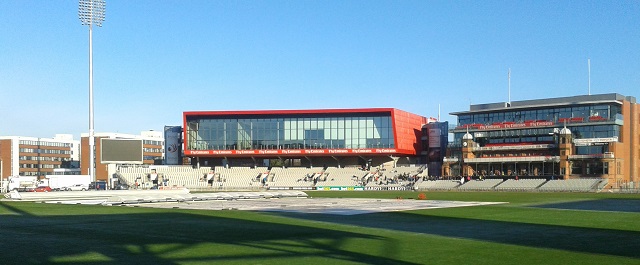 It seems that, for its fortieth running ;-) the Greater Manachester Marathon has a new home, the Emirates Old Trafford (aka "The Cricket Ground") (not to be confused with "the Football Ground"). I set off down Brian Statham Way (aka "the Warwick Road") and we are directed in through the first gate to get to the baggage drop-off (more of that later). An international sporting arena used to playing host to 26,000 – what a great host venue for a big city marathon! As I head around the back of the stand I decide on a pre-emptive strike on the gents loo. Utopia – no queue at all – not surprising 'cos it was b#$££y locked. Eventually we are out in the open, the baggage drop-off is in one corner, and across the way, at last, an unlocked convenience (and a big queue).
I join the queue (which is going nowhere) – "do you really need to go?" I ask myself – hmmm – maybe not – move on. But there is still a nagging doubt – I start queuing again at the next block. By the time I'm done it's after 8:00 and the baggage drop-off is pandemonium. I manage to drop-off my bag, and I look for the realbuzzers, but to no avail. As the time ticks on there is a general move towards the start (by "the Football Ground") and I go with the flow.
But then I decide to backtrack at which point the second nice surprise of the day. I do a bit of a double take, as there is a most unexpected friendly face. Hello she says – it is Karen from Egdon Heath Harriers, who had not revealed she was taking part. So we walk down to the start together, until we separate to go to our respective start areas. I head off for the yellow, which is right by a huge carpark. But the nerves are starting to kick in. I know I am going to need another wee! Surely there is some discrete place in the car-park where us chaps can express ourselves – eventually I spot some like ly suspects, who lead me to a likely spot and relief is mine!
But enough toilet talk – I do seem to be obsessed – back to the marathon. I take up my place on the road, and decide that it is cold enough to wear my Weymouth 10 shirt (which I had deemed disposable) under my CLIC Sargent running vest. Manchester are providing three four hour pacers (labelled 3:58, 3:59 and 4:00) and I am behind the first two. We start at nine and walk slowly towards the start line, then in due course we start to jog, and as the start line approaches we are into our stride.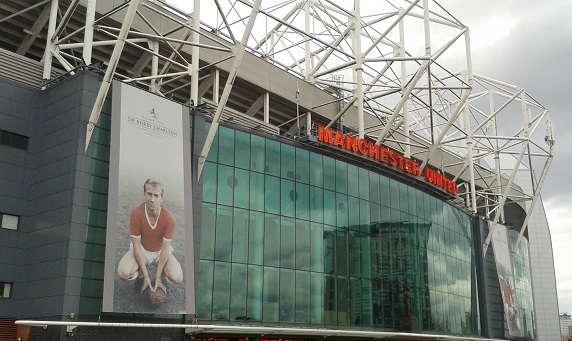 My aim is to better my PB of 3:56:17 from Paris last year and to maybe get down towards 3hrs 50mins, as a stepping stone towards my ultimate aim of 3hrs 45mins (Boston qualification and London GFA at 60!). But, despite putting in the hours, I suspect I might not be in quite such good shape as last year, because, with mum's passing, I'm calling this my "Dementia marathon" – there have been too many distractions. I have no particular evidence other than generally feeling more tired and less lively. But on the other hand I also felt I could have given more in Paris last year. But anyway, the plan is to try and knock out kms at 5min 20sec and see where this leads.
So first I need to edge in front of the 3:59 and 3:58 groupings, which is duly achieved. I'm soon feeling warm and decide to revert clothingwise to Plan A, stripping off as I go, and some lucky spectator becomes the recepient of a loud orange Weymouth 10 technical t-shirt. And it seems to be going alright with Garmin showing me nearer 5:15 (now that would be a great title for a song) per km. Around 6km I sight James, who has come up from Weymouth to support, and then, very soon after, a third nice surprise as someone else is shouting for me looking remarkably like my cousin Kathryn who lives in York – I'm past before being convinced it really is her, and I turn round and shout back – it really is a special to think that people will go to lengths to support like that :-) A couple of my km splits are showing up on Garmin very close to 5:00 per km. I have to tell myself to ease off a little.
It's continuing to go well as we head out through Sale, which appears to have a nice canal waterfront area, Timperley, and towards the halfway point in Altrincham, where we turn around and head for home. I'm starting to feel it a bit by half way, but all in all I'm pretty surprised how easily I've got there. The results are showing my time there as 1:52:38 – only eight seconds off my half marathon PB! I keep it going a bit further, but around 16 miles I guess I'm starting to slow. But I'm still knocking out my km splits at a steady 4hr marathon pace. But around 20 miles it's starting to hurt me.
This is my fourth big city marathon now. London was the first, and, whatever else it might be, it is something of a fund-raising bean-feast. The vast majority of runners there seem to be running for charity. The others haven't really been like this and I felt Manchester was no exception – yes there were plenty of fund-raisers, but plenty who were just there to run a marathon too. But I was proudly displaying the colours of children's cancer support charity CLIC Sargent – truly a vision in pink with KEITH clearly emblazoned across my chest. There was some magnificent support along the way. KEITH, KEITH, KEITH, KEITH, KEITH, KEITH, they'd shout, and it seems that as I (presumably) started to look worse, the more they shouted.
But that little horned figure is on my shoulder again – haven't seen him since Paris last year! – walk – walk – he whispers. In the past we have ignored him. But we have a quick conference. And this time head and heart are prepared to indulge body. After all we have nothing to prove – we have done this before – we know we CAN do it (if we want to) – but we can rationalise this – after all this time we really went for it – only so many times you can go to the well -and maybe we'll want to go there again - so don't break the poor chap! Before I know it I am walking. But not for long, I start running again, but there is no way we will be going at the same pace. Every km or so we have another break. But the crowd are still great – YOU CAN DO THIS KEITH they shout. Mostly I acknowledge them with my best beaming smile – after all I know I will get to the finish – just not as quickly as I hoped. But at one particularly low point I'm afraid I just maintain my steely focus and fail to acknowledge them at all – "Well that one was a bit stony faced" I hear somewhat sarcastically – "WELL IF YOU THINK IT'S THAT FECKING EASY MADAM" (I whisper under my breathe!?!).
And all the time on-board trip computer is working overtime! Walk from here and you'll still be there in under five hours it tells us – but "we don't want to give you that" (as Chris Tarrant would say) – walk a bit more – then jog a bit more – there's a bus stop ahead – "focus" – "focus" – "to the bus-stop and beyond" (as Buzz Lightyear would say). Computer update – "walk from here and you'll be there in 4:45". Honestly it's only the mental arithmetic that keeps me going! We start to have some serious doubts – keith's marathon dream indeed – what were YOU ever thinking of – how could YOU have ever have thought that YOU could EVER have run fast enough to get YOU a boston place!!! Best to just WRAP THIS WHOLE THING UP and act your age.
I am not surprised when the 3:58 train goes past me. Then more ritual humiliation as the 3:59ers trot past. There is a sudden spark – "go with them – go with them" it says. Indeed I'm amazed just how slowly they seem to be moving – but it's still a damn sight faster than I want to go. That wonderful dilemma – the more pain, the quicker it's over – the less pain the longer you have to endure it. There are volunteer "marathon angels" coming towards us – they all ask me if I'm ok and I assure them (with a smile) "I'm fine".
But we're getting there – Garmin is ticking towards 40km – "nearly there" shout the crowds – "just another mile" – I sense we are getting back towards "the Cricket Ground" – and then massive relief – "just around that next corner" – I check Garmin – can this be true? There's been quite a lot of dicussion about it – nominally the marathon should be 42.195km – but Garmin is an inexact science and my expectation is always that it will stop closer to 43km – but if what they say is true it's going to be damn close to that 42.195!!!
Around the corner and yes – you can indeed see the finish – it's that FECKING WHITE SPEC IN THE DISTANCE. Reminds me of the two mile straight at the end of the Great North Run! But I'd promised myself a grand finish – there's no way I'm going to be walking now and I pick the pace back up to something far more akin to the first 13 miles - but it's hurting – keep going – keep going – I'm even speeding up now and that white spec is getting bigger and BIGGER. The time is ticking on – I see it tick over from the 4:10s to the 4:11s. Kathryn sees me again but apparently I'm far too focussed to see or hear her – I just want to get to that line and COLLAPSE – like I did in London – and in Paris – I know what to do – I throw my water bottle down and throw my hands up in celebration – DONE IT!!!
Collapse then – but where?? There really is no space to fall over – we are pushed forwards to take our medals and goodie bags and a free non-alcoholic beer (which really "hit the spot"). And then a (somewhat bizarre I thought) announcement along the lines of "don't queue up for your bag yet - why don't you go and meet and greet your family and loved ones". Well with all due respect James as much as I appreciated your support I'm not sure you'd fall into that category, and whilst Kathryn is indeed family I had no idea if she was still around. No – I will go and get my bag – after all it has stuff I want in it – like clothes – and a change of SHOES!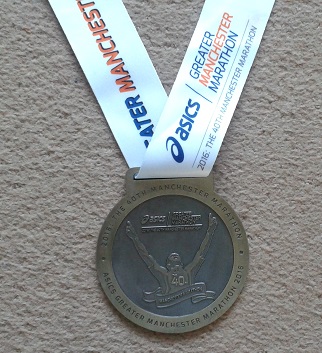 And before I know it "Is this the back of the baggage queue" I hear someone ask? "Yes" replies the marshal – hmmm – going to be quite a wait. But little did I know that queue was modelled on those you find at Disney – Space Mountain or whatever – turning around and snaking back on itself – several times – all that was missing was the "2 hours from this point" sign! - and I sure as hell didn't have a "fastpass". But we're British (mostly) – I got chatting with a chap from Dublin, then after a bit James came and found me. I chatted briefly to Karen at the point that her part of the queue and mine came together, and then we got chatting to a very nice chap (like me a South Londoner) but now living in Birmingham. And like me a supporter of a basket case of a football club (in his case Villa). At one point we were joined by one of his supporters, a very business like lady (who is apparently Event Director at his local parkrun). She insisted that we should "storm the battlements". But we remained stoically British.
And so the stats were that I completed in 4hrs 6mins and 17secs – exactly ten minutes slower than Paris. And we queued for almost dead on 2hrs (ffs) to get our bags back. Karen completed in a very respectable 4:20, whilst Glenn, also from Egdon Heath also got around his first (and hopefully not only) marathon in five and a bit. And Ingrid's friend Lisa completed her first marathon in a very creditable looking 4:26. Not sure what times the realbuzzers did, but they all finished and I know a couple of the guys really smashed it in 3:27. As ever a great effort by anyone.
I cannot let this go without commenting on the baggage fiasco. First off the volunteers did all they could and certainly, from what I could see, the runners showed amazing patience. The clement weather really got the organisers out of jail. But even as I picked my bag up, the weather was getting colder and windier. I would not like to have been out there for much longer. And it really took so much of the gloss off finishing another marathon. Organisers - you really must get this sorted for next time. If you don't you really do deserve to be strung up (I decline to say by which body parts!).
So goodbye to Manchester. Paris it sure ain't. Without wishing to offend how can you compare running around the Arc de Triumphe and the Louvre with running around Sale and Altrincham? But it is pretty damned flat and (I would imagine) pretty damned fast (if you get it right). And all in all I can't be too disappointed with my time – it is still after all, and despite all that walking, a Personal Second Best :-) And still there are lessons to learn and positives to take. And for anyone else thinking of Manchester in the spring– don't be put off because they will get it right next year (OR ELSE).
Oh yes and a quick note to Pizza Express – please order in extra pasta for marathon weekend next year!
#aufdemWegnachBerlin
Signing off for now,
Keith
Tell us your story
Inspire and be inspired by sharing your health or fitness journey. Your blog will provide you with a permanent record of your progress, with the added bonus of motivation and encouragement from our members along the way.
*
Manage my blogs