... and then she sang a song ...
Posted on: 16 Dec 2016
... to paraphrase (IMHO) the GREATEST CHRISTMAS SONG EVER (indeed possibly – IMHO – the greatest song of all time FULL STOP) ...
This is supposed to be a training blog isn't it? I was going to have a good whinge ... about how s$%t I've been feeling – about how c&*p running has been going – about how hard it is (to motivate oneself to go out on these cold wet windy nights) – all of which is, to a greater or lesser extent true. Well that's the training report done.
Well b£$$%r me sideways ... little did I expect, when I made that chance remark to Mrs Kim Fudge the last time (before today) that I turned up for Friday morning swim club, quite where it would be leading. If nothing else, it looks like I have a reason to blog again. Before I know it we have a little team of Egdon Heath Harriers signed up to run London on behalf of children's cancer support charity CLIC Sargent. Kim was happy to join, Hayley too who ran London two years ago, and then Mel too, another with previous experience of course and distance. So much to say. But pace yourself Keith. No need to say it all today.
If you want to do stuff ... like climb Kilimanjaro ... trek the Inca trail ... run London ... become a charity fund-raiser. That's what I did three years ago. Maybe (just once) you can reasonably expect to crawl out of the woodwork and ask friends, family, acquaintances, odd people down the pub, to sponsor you to do something out of your comfort zone. But you can't expect to go back to the well again and again. Of course there are people who will sponsor you over and over just for doing it ... maybe they have a special connection with your chosen charity ... and that's great ... but you should not expect it.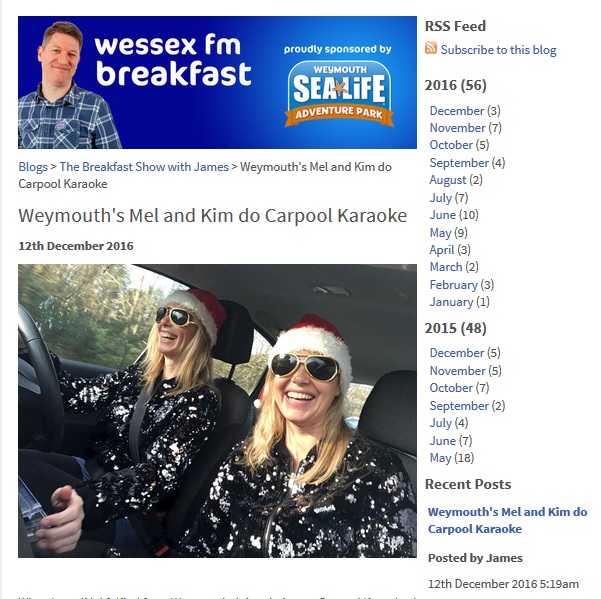 No ... there are other ways. My view now is that if you expect people to donate, you should give them good reason to do it ... that you should give them some value in return. Which I guess leads onto to this week's undoubted headline act. We are sitting in Weymouth's Oasis for post swim coffee, and Kim's mobile rings. Must be the press I (jokingly) say – well yes – it was the press (Dorset Echo)!!
And before you can say "Itsy Bitsy Teenie Weenie Yellow Polkadot Bikini" Mrs Fudge has persuaded the manager of Weymouth's Cafe Oasis to part with £50 hard earned cash! I give you Mel & Kim's Carpool Karaoke (click here to see what they are capable of).
But more of that on a later day. At the moment there is no need for me to push this. For one thing Mel and Kim are doing an amazing (as Claudia would say on #strictly) job pushing it themselves. And for another thing they have enough on their plates (crikey ... really mixing the metaphors here) keeping their heads above water (not unlike me in the sea this morning).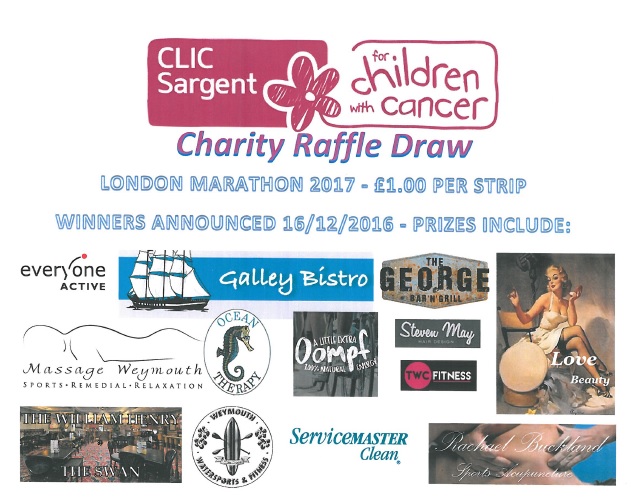 Meanwhile Hayley has not been taking things too easy, having managed to get hold of a mightily impressive THIRTY-SEVEN prizes for a Christmas draw. The draw is lunchtime today (Friday). I was hoping to put off writing this until we know exactly how much this has made. But as of this morning she was reporting a sum of £718 (stop press – final total £740 and yours truly wins a meal for two at 'spoons :-) ). Returning to what I said earlier, no-one should think that this is, in any way, easy money that she has come by. Getting all those prizes takes time. Publicising it takes time. Selling all those tickets takes time. Folding them all up takes time. Drawing them all out takes time. Distributing all the prizes takes time. Thanking all the people who have supported you takes time.
And therefore it should be no surprise that she reports waking at 3:30 in the morning wondering just how she is going to get this all done. But get it done she has. And at the end of the day, if we assume that everyone's original expectation is to raise let's say £2000 on behalf of our chosen charity, that's one huge chunk of the commitment under her belt. Whilst it is money that will all be put to great use by CLIC Sargent, it is also a huge weight off your mind to see it banked as part of your commitment.
But enough of this. Today I was supposed to be catching up on long neglected paperwork (before heading out on Egdon's "Bad Santa" pub crawl training evening). And tomorrow it's Kim'n'Jim's post parkrun fund-raising coffee morning. I think that for the time being you'll have to make do with my commentary 'cos the ladies are too busy to write anything. In some strange way I feel like a proud parent again :-)
I did promise this could be quite a journey :-)
#egdonrunsforclic ... www.justgiving.com/egdonclicrunners
Keith
Tell us your story
Inspire and be inspired by sharing your health or fitness journey. Your blog will provide you with a permanent record of your progress, with the added bonus of motivation and encouragement from our members along the way.
*
Manage my blogs