Three Blog Entries For The Price Of One ...
Posted on: 22 Apr 2017
What a bonus - with the rebranding of the realbuzz site, I've been struggling to add my (currently daily) post, so here are three for the price of one!
Thursday - Lets Get Serious
I mean don't get me wrong - I LOVE fundraising on behalf of CLIC Sargent – who wouldn't? - but that wasn't why I decided to do this for a second time. It was (again) really all about me. Last year I came up to London on a bit of a whim to support on marathon day, but what a day I had? It was so special supporting so many friends, Egdonites, my daughters' friends, elites, non-elites and everyone else. "I just have to be there taking part next year" (he thinks).
And so the plan hatched. It would be low key. I would set up a couple of events and the required sum would be raised. And I could concentrate on the run. None of this going outside of the comfort zone that so categorised my 2014 experience. No busking in town. No radio interviews. No newspaper articles. No stripping off in churches. Just slip under the radar, raise my £2k, and enjoy the day.
And then the sudden realisation that I didn't even need to do that as I become the one person I know who gets a place in the public ballot! But running London is a great experience and just maybe one that every runner ought to at least have the chance to experience. And so my thoughts turned to my erstwhile "running nemesis", Mrs Kim Fudge – shouldn't she be given that chance in my (charity) place? After due consideration she decides to step into my running shoes and take on my charity place, and is soon joined by fellow Egdonites Hayley and Mel (sorry Patrick – just wanted to show the Egdon Four here ;-) ).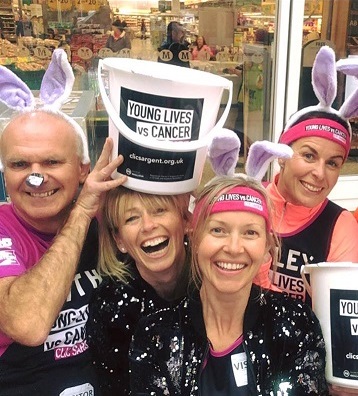 Now this is great, but it does change the dynamic a bit doesn't it? From not having to worry much about the fundraising, suddenly we are looking at having to raise around £6k on top of the £1k I already had in the bank.
Early on, Mel and Kim hit on, almost by chance I believe, the carpool karaoke idea. It was hilarious to see their early efforts, but I have to admit I had some doubts as to just how much mileage (haha) they could get out of it. After all, after all have given, they won't keep on giving will they?
Well let me tell you, they stuck with it and now they are amazingly nearing the £5000 mark in terms of money raised. I think they've had a ball doing it, but no-one should underestimate just how much of themselves they've given to it. Just of late they've been putting in a massive amount of time doing the footwork to get corporate sonsors on-board. Sure they are having fun, but I have learned that under the bonnet (haha) it is also a very professionally run operation.
Meanwhile, Hayley has worked more closely with me. We decided to run an additional quiz night. I took on the role of quiz-master, something I had always wanted to do, while Hayley took on the role of catering for around 90 people. Huge credit to her for what she achieved that night, putting on a wonderful spread, because that was another example of someone stepping firmly outside of their comfort zone. Just a week ago at my long planned "brass band concert" she was again there, this time running the raffle for me, and in between times has managed to raise another £1000 in personal sponsorship
It's damned hard work because all this time we shouldn't lose sight of the fact that we also have the small matter of a marathon to run. Oh yes and a life to lead, families, children, jobs, husbands (them, not me!). Inevitably at times one thing will be compromised by another. At times it is damned hard. And (as stated before) we should particularly pay tribute to the role in all of this of Jim, Patrick, and Nathan, of Will and George, Felix, Jasmine and Jake, and Issy, Jaz and – doh – dammit – can't remember you son's name Kim!
But, what they are doing is something ever so special. They are experiencing things and creating memories that will last a lifetime (or in my case at least until the dementia kicks in). Yes, I reckon London 2017 is something that they will look back at in years to come as a very special time and I've just had the time of my life being a part of it.
Now on the other hand I've stayed pretty firmly within my comfort zone this time. Or at least I had until last night. But that's another story ...
Friday - Here Come The Girls ...
Just a quick update from the parallel universe of #egdonrunslondonforclic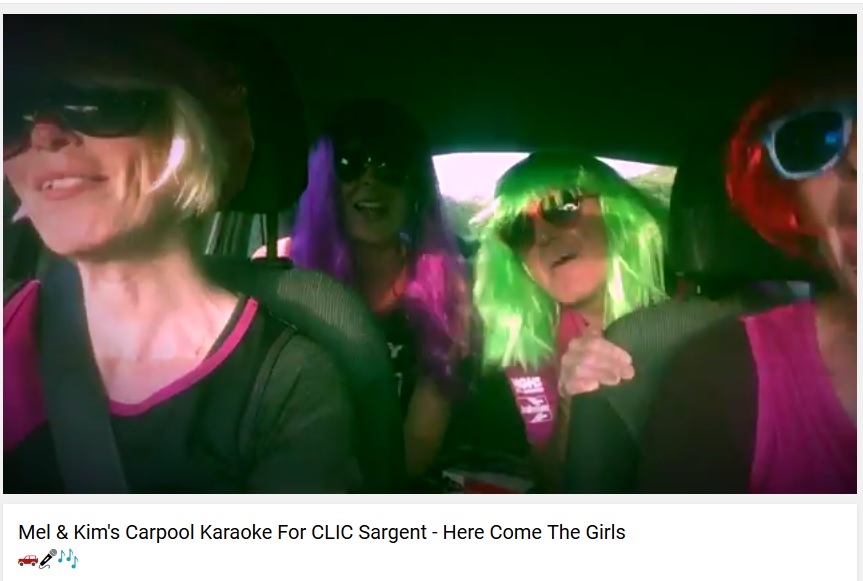 Well I did mention earlier about stepping ever so slightly outside my comfort zone on Wednesday evening and tonight I am pleased to be able to present the evidence. Hayley and myself were invited along to share in the madness of Mel and Kim's carpool karaoke, and the upload of "Here Come The Girls" as sung by the Sugababes went live tonight
Other than that, today I did expo. It somehow felt a bit different this second time around, somehow a bit calmer. I took the time out to spend some money on a series of items that I genuinely needed. And I posted messages on a couple of other charities' walls – pancreatic cancer for my dad, and then this message for mum at dementia research. Somehow these few words just always reduce me to tears (and today was no exception).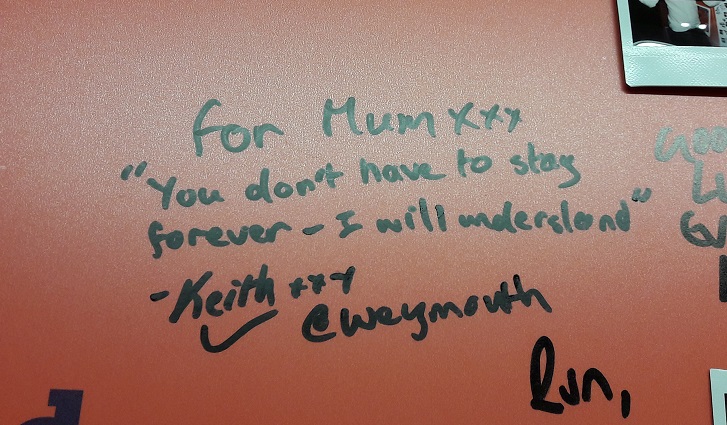 Of course, I visited the CLIC Sargent stand and was photographed by Lewis for the wall, before meeting David Hepburn, one of the charity's world record attempting "Scooby Gang". And I was also delighted to meet marathon first timers Helen and Kath and pass on to them some of my distilled wisdom as a veteran of one previous London marathon ;-)
And next I sat down and listened to a couple of speakers. There was a very interesting talk from top nutritionist Anita Bean. But the highlight was undoubtedly some more distilled marathon wisdom, this time from the inspirational Martin Yelling. Afterwards the chap next to me asked "was that man Yelling" – "no" I replied – "that was his normal voice" (actually this never happened but I never like to pass up the opportunity for a cheap joke).
Unlike the last visit, I didn't have to put up with the Olympic marathon champion bugging me to have our photo taken together ;-) But I did later bump into Martin again in Costa Coffee and mentioned that my friend Chris had once been overtaken by him pushing his twins around Montacute parkrun in  double buggy. Apparently he was born in Weymouth and claimed personal responsibility for including the hills in the Bournemouth marathon route!
Meanwhile, the Egdon 4 crashed through their £10k fundraising target. Huge kudos to my co-conspirators. Watch out London - those girls are truly coming to get you.
Another most satisfying day in the world of #egdonrunslondonforclic
Saturday - Heroes
I grew up a total sports nut. I was out all hours kicking a ball around the garden or throwing it against a wall and whacking it with a cricket bat (seasonally dependent) and when I grew up I knew for sure that I would be a top racing driver. Cup Final day was so special and the first I remember was Spurs beating Burrnley in 1961. I became hooked on Tottenham Hotspur (a habit I later, happily, found remarkably easy to kick – haha), and Kent regularly played cricket locally at Blackheath. All I wanted to do was score – goals and runs. And so it was simple – my three sporting heroes, the king of goalscorers Jimmy Greaves, the man who made an artform of scoring runs, Colin Cowdrey, and just the best racing driver, Jim Clark.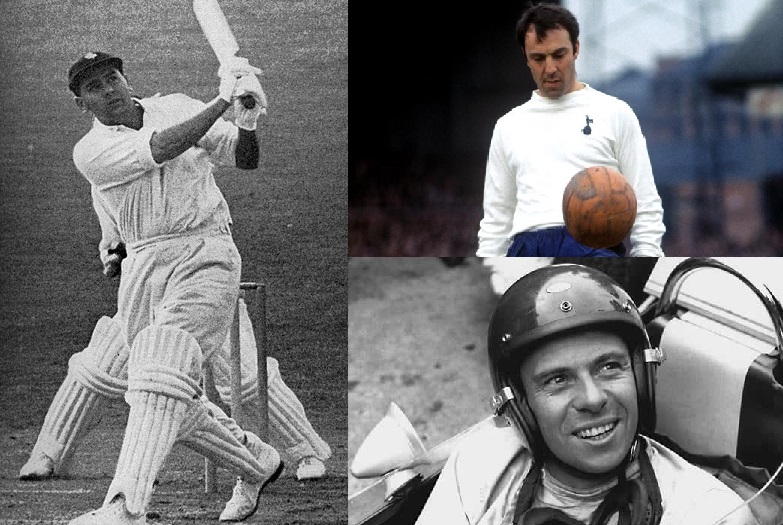 April 7 1968 must have been one of those days I was out playing because I remember as plain as if it were yesterday mum coming out to break the devastating and unbelievable news that Jim Clark had died in a crash at Hochenheim. I mean, I knew that racing drivers died almost every day in those days, but surely not Jim – Jim who won every race he ever drove (in my memory) – surely HE, out of all of them, was immortal.
It wasn't Spurs that we went to watch – no it was our local team, Charlton Athletic. Now we accepted them as perennial under-achievers. Their natural place was near the bottom of the old "second division" (now the Championship) but I was lauded with tales of how "we used to be one of the best teams in the country" – culminating in victory at Wembley in the 1947 FA Cup final (mum was there!) and so we come to simply (in my memory) the best I ever saw in a Charlton shirt our young (well he's 69 now!) Scottish midfielder Alan Campbell.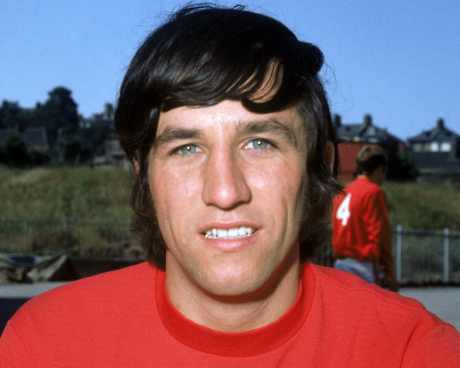 Those were the days of George Best – "Beatle" Best - but Campbell had the haircut too, and on his day he could be the best too. Good Friday 1969 – in those days Easter was special in the football calander. Out of the blue, a Campbell inspired Charlton were threatening promotion to the old "first division" (now the Premiership) and today we hosted rivals Cardiff City. But (shock/horror) Campbell had been in bed with the flu all week and his participation was doubtful. But he made it onto the pitch and by the time he was withdrawn at half-time, our boys were 4:0 up! The then Cardiff manager, dour Scot Jimmy Scoular, lamented the fact that none of his team had the flu!
And then in my youth, along came the book "Real Men Don't Eat Quiche". Wasn't there something in there about real men being born within shouting distance of the football team they support? I gave myself a firm talking. Overnight Spurs were dumped and Charlton officially became my first love. And in those days we had the most ruthless of goalscorers – a true cult figure – I present "Killer" Derek Hales. He wasn't much of a footballer but God help you if you upset him. Fellow striker Mike Flanagan must have done once, because Killer hit him – on the pitch (they were both sent off!). He didn't "lead the line" particularly well. He wouldn't "hold the ball up" for you. He was no good with "his back to goal". But when it came to "sticking it in the net" ...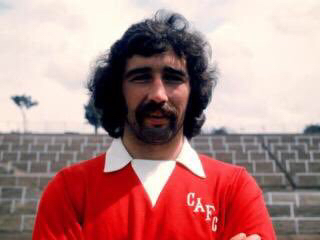 I grew to adulthood and developed an armchair passion for Ski Sunday. And in those days there was just one man, peerless and fearless, Austrian Franz Klammer. I went skiing and was soon hooked, and it was (prior to the birth of Madeleine and Anneliese) surely the greatest shared love of my married life. And if you know me, you'll surely know that, for the past five years, I've rejoiced in becoming a "born again skier".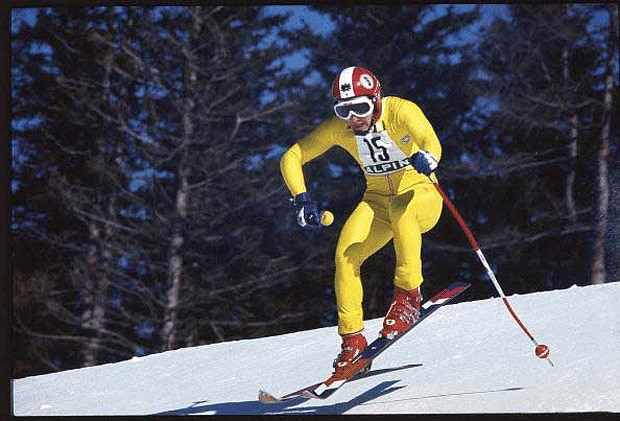 But there's something else. In the "noughties" I developed an obsession with watching the London marathon on the "red button" and that was for just one reason – I just LOVED watching Paula Radcliffe – it may sound boring - two and a bit hours just watching one person, metronome like, pounding out step after step around the streets of London – the streets of Woolwich and Greenwich and Charlton – the streets where I grew up – strangely hypnotic. I remember the great Michael Johnson being in total awe. In his world he was quite prepared to beat himself up for best part of a minute, but to do it for two and a bit hours????
And so grew inside me that strange desire to experience, just once, that experience. And inn 2014 I did. And I came back for more. And Sunday will be my twelfth 26 miler. This is genuinely a love / hate relationship that I've grown to love. The three "me"s – head, heart and body in total disharmony - the discussions - the conferences - the compromises – the agreements – as we go about trying to achieve our (hopefully) shared goals – the pain – the joy – ultimately the ELATION.
Two years ago it was such a privilege to be there to support (alongside Hayley) Paula on her marathon swansong. I'm welling up now just thinking about it – to Paula Radclife – truly a most worthy inductee to this life's "hall of fame".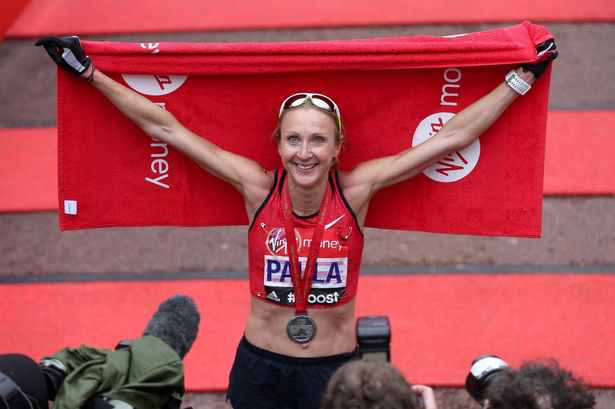 #egdonrunslondonforclic
Next stop Blackheath (and Greenwich Park),
Visit Keith's JustGiving Page if you feel inclined to make a small donation to CLIC Sargent.
Thank you for reading,
xxx / manhugs,
Keith
Tell us your story
Inspire and be inspired by sharing your health or fitness journey. Your blog will provide you with a permanent record of your progress, with the added bonus of motivation and encouragement from our members along the way.
*
Manage my blogs