Bedford parkrun
Posted on: 04 Dec 2021
Another week, another parkrun, another county town.  In recent weeks I have visited the county towns of Wiltshire (Trowbridge) and Dorset (Dorchester).  It was time for the county town of Bedfordshire which is of course … Bedford!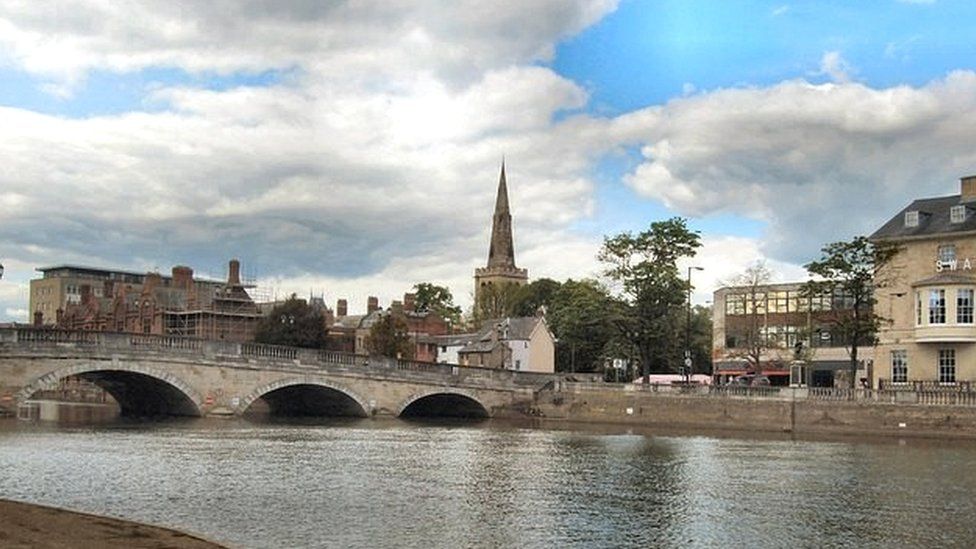 Bedford is an ancient settlement which was founded around a ford, in this case across the Great Ouse.  The "Bed" bit is believed to come from Beda, an Anglo Saxon chieftain. In the Middle Ages it was a busy market town with a population of around 1500.  It was considered important enough for the Normans to build a castle here.  The castle is long gone but the mound on which it stood, still remains.
The economy of Bedford was originally based on wool and cloth making.  Later on Bedford became famous for lace making.  In 1689 the Great Ouse was made navigable as far Bedford, making it easier to bring goods in and out and allowing new businesses to develop.  Brewing became an important local industry and later brickworks started to appear, making bricks out of the local clay
The most famous son of Bedford is perhaps the writer, John Bunyan.  He spent a large chunk of his life in the mid seventeenth century in Bedford prison.  He was put there for his nonconformist religious views.  While there he wrote his immortal classic, "Pilgrim's Progress".
Modern day Bedford has a population of around 150,000, if you include the whole borough, so it is more of a small city than a town.  It is a busy and thriving place with an attractive riverfront, a number of museums and galleries, also a range of arts, entertainment and sporting facilities.  Bedford is also home to the University of Bedfordshire.  Bedford is probably best summed up in a headline on the Guardian's property page - "Bedford, nicer than you might think!"
One of the more surprising facts about modern day Bedford is that it is home to a very large number of people of Italian descent.  After the Second World War a large number of Italians, particularly from the more impoverished parts of Italy, answered adverts to come work in the local factories and farms.  They subsequently brought their wives and children and settled in the town.  It is reckoned that up to 25% of the town's population is of Italian heritage.  Until recently there was a separate Italian consulate in the town.  Things can get a little lively when Italy play England in the football!
Running is a popular sport in Bedford and the town hosts a variety of events including a Running Festival in September.  There is also a good standard athletics stadium which hosts high standard events.  I have run there a couple of times myself.  Paula Radcliffe comes from Bedford and is still, I believe, a member of Bedford AC.
The parkrun takes place in Bedford Park which is on the northern edge of the town.  It's a rather nice park with a bandstand, a café, a lake and various play areas and sporting facilities.  The course consists of approx two and a half laps around the perimeter.  It is all on tarmac and reasonably flat, so ought to be a fast course.  Bedford parkrun has been going for over ten years now and is a popular event, usually attracting in the region of 300 starters.
It was a nice bright morning, slightly chilly but not too cold, so I thought I would make an effort today and see if I could improve my best time for the year.  The only thing I didn't like about the course was the start - the runners lined up on the grass then made a dash for the tarmac path.  It was a bit of a scrum at the start.  Once I got going I was fine and settled into a steady pace.  I completed the first lap in around eight minutes and the second lap in about the same time.  I looked to be on for a time of under twenty-two minutes and indeed I was.  I crossed the line in 21:34 which gave me 22nd place.  That was my fastest time of the year so far, indeed my best time since 2019.  So I can safely say that I was very happy with my return to Bedford.
My statistics for today - that was parkrun venue number 236.  I was first in my age group and second overall on age graded scores.
If you'd like a glimpse of the Bedford course, here it is in YouTube form.  Since this was filmed they have changed the course and run it in the opposite direction but the route is otherwise the same.
Tell us your story
Inspire and be inspired by sharing your health or fitness journey. Your blog will provide you with a permanent record of your progress, with the added bonus of motivation and encouragement from our members along the way.
*
Manage my blogs