Great Notley parkrun
Posted on: 29 Oct 2022
Well time is moving on, we're nearly in November, the clocks go back this weekend but still I have the urge to notch up another parkrun venue.  This week I was headed back to Essex and to Great Notley.
Great Notley sounds like it ought to be a venerable old market town but in fact it is pretty much brand new.  It was built on the south western edge of Braintree and could be regarded as a village in its own right or just a suburb of the much larger town.  As for Braintree … it has been around for at least two thousand years.  Its odd name is believed to derive from the river on which it stands … the River Brain (what else?)  In the Domesday Book the town is recorded as Branchetreu.  It stands on the same Roman Road (Stane Street) as Great Dunmow, where I was a couple of weeks ago, although traces of Iron and Bronze Age settlements suggest that it was inhabited well before then.
For centuries Braintree was known for the manufacture of woollen cloth.  The trade prospered in the seventeenth century when many Flemish immigrants arrived in the area, bringing their skills with them.  The wool trade declined in the nineteenth century but in its place came a silk mill opened by George Courtauld.  Courtaulds became probably the biggest name in British textiles and the Courtauld family contributed to the building of some of the fine public buildings in the town.
After the Second World War, Braintree developed rapidly and its population has now grown to over 50,000.  To cater for the growing population the new suburb, or 'Garden Village' as it prefers to be known, of Great Notley has been constructed over the last twenty years.  There are around two thousand homes here, along with shops, schools and churches and pretty much everything is shiny and new.   There is a large green space in the middle that serves as the village green.  I had a little jog round after the parkrun and it seemed to me a rather pleasant place to live.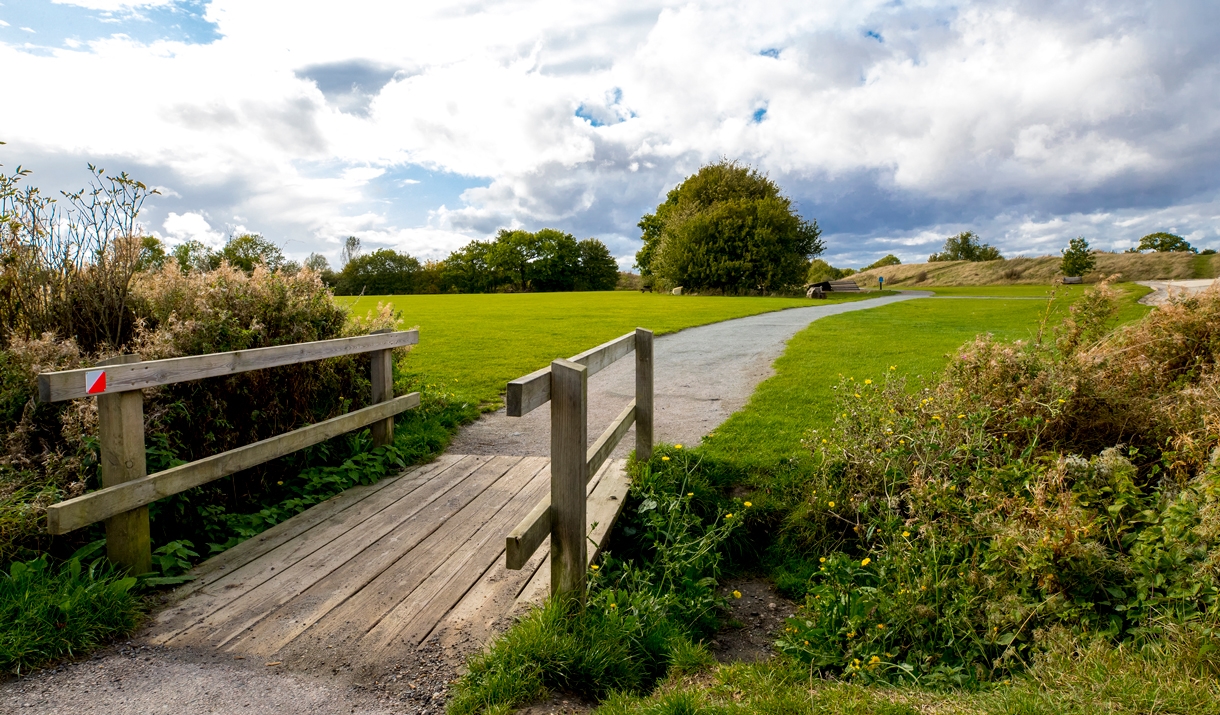 Great Notley Country Park is just on the western edge of the village.  It comprises around 100 acres and provides miles of paths along which to walk, run or cycle.  There are also many swings, slides, ropes etc. for children to play on.  At the southern end there is a largish lake, popular with anglers.  And since the summer of 2014, it has hosted a parkrun.  They have a summer and a winter course here.  This was the first week of the winter course and it comprised two laps, the first longer than the second.  It is mostly on gravel paths and fairly flat.
Great Notley parkrun has been going since the summer of 2014 and has proved fairly popular, usually attracting between 150 and 200 starters.   There were 156 runners and walkers there today, some of them in costume, seeing as it's Halloween weekend.  It was a dull, grey morning but surprisingly mild for the time of year.  I generally enjoyed the course - I enjoy running on gravel paths, even the bits that are a bit slippy.  I maintained a steady tempo round the first big lap and came back round the café in around 13 minutes.  I wasn't sure if that was good or bad as I didn't know how much shorter the second lap would be.  It turned out to be quite a bit shorter as it missed out the loop around the lake.  I came into the finish in 22:18 which gave me 22nd place. Perfectly happy with that.  This was the sort of course I would enjoy running through the winter months.
My statistics for today - my total of parkrun venues is now up to 269.  I was first in my age group and fifth overall on age graded scores.
If you'd like to see the course for yourself, here's a YouTube video.  This wasn't quite the course we ran today but it gives you a good idea.
Tell us your story
Inspire and be inspired by sharing your health or fitness journey. Your blog will provide you with a permanent record of your progress, with the added bonus of motivation and encouragement from our members along the way.
*
Manage my blogs