Don't Dream It, Be It
Posted on: 31 May 2017
The dust has settled – it's over five weeks since London, indeed I've since run the first Dorchester marathon. But there remains one #VMLM blog post that needs to be seen and I've determined that it must be posted before next weekend.
I Had A Dream
Yeah – back in 2013 – and it was this. You have to raise £2000 to run your first marathon for charity. Well lets leverage your obvious?!? musical talent by recording a load of songs and shoving them on youtube. And include a little link to your giving page. And then thousands of people will come along, like the music, like the charity, stick a couple of quid on here and there, it will all mount up, and before you know it Bob's yer Uncle – job done. The money will be raised – HUGE weight off your mind. Well that's just what I did and let me tell you, four years later, just how much money I've managed to raise that way for CLIC Sargent ... precisely nothing – zilch – DIDDLY SQUAT!!! Maybe, looking back, it was a pretty daft idea? But more of that later.
Now Is The Time To Say Goodbye
And so, for a second time, my London marathon dream is done. So many people have been very complimentary about what I achieved a few weeks ago. And yet I stubbornly reserve the right to feel just a little bit disappointed with the 4hrs 26mins and 29secs that I spent out there. That wasn't how it was meant to be. That wasn't what we trained for. I never planned to get to 17 miles and just not feel I had the strength to carry on.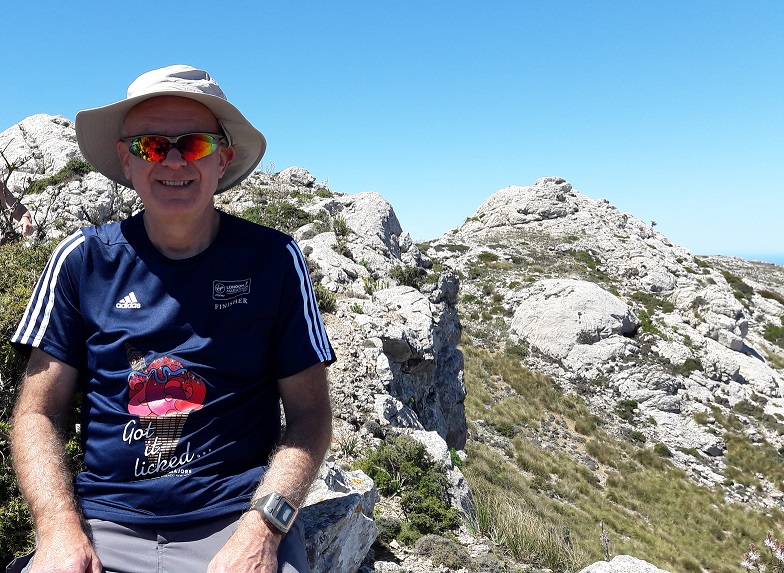 Tramantuna Trail, Majorca
So what went wrong? I've certainly asked myself. Was it the weather? We found it hot out there. But that didn't stop Mary Keitany ... or Simon ... or Claire. Did I not taper well enough? Was parkrun on Saturday a mistake? Should I not have pushed that run along the esplanade with Asa so hard on the Tuesday? (5k that was very close to my parkrun best). Was it a mistake not to wear a cap for the first time ever? Was my diet wrong, having been eating almost exclusively "veggie" for several months? Did I get the fuelling wrong on the day? Was I dehydrated? Should I have not gone skiing (twice) in the build up? Did I go out too fast? Did I go out too slow? Should I have got a hotel closer to the start. Should I have gone up on the train? Did I get the balance between running and fund-raising wrong? Is the whole thing just a bad idea?
Having sent Hayley on her way, it was one hell of a struggle. Not for the first time I told myself "you really don't ever need to do this again". And this time I felt I really meant it. Maybe you're just too old for this. The irony ... you spent thirty years or so waiting to discover this great new hobby and then – before you know it ... you've got to pack it in because ... quite frankly ... you're past it!
Then again, if I met the ME that first turned up at Les' summer Egdon session from the squash club, precisely four years earlier (to the day) I could ask him a question. If I said to me, "in four years from today you will complete the London marathon (your twelfth) in under four and a half hours" how might I have felt. I guess suprised and pleased, but tinged with just a smidge of disappointment (because EVERYONE knows a decent marathon is run in under four hours!). Hmmmm – so what's changed?!?
But there is more to it than that. This year I was joined in running, and raising money for CLIC Sargent, by three great ladies from EHH, Hayley Howard, Mel Ward and Kim Fudge. Which leads us back to youtube. Very early on Mel and Kim chanced, almost by accident, on their carpool karaoke idea. People would donate via their giving page, nominate a song, and Mel and Kim would go out in the car and video themselves murdering singing along with the above song choice. Clearly a huge mistake since I have already proven definitively that you just can't raise money through youtube. Forward to May and Mel and Kim's carpool karaoke giving page is showing over £6,000. It reflects a HUGE effort on their part and is a huge achievement. Hayley meanwhile ran a prize draw, cake sales, came in with me on organising a quiz night and helped with our band concert. And now a quick visit to our team giving page, "Egdon Run London For CLIC", shows that our total raised is more than £11,500, surely way in excess of what we were expecting.
Thanks For The Memories
It was (again) a very special time. Thanks so much to my family, to Anneliese and to Madeleine and indeed to their mother Marion for such wonderful belief and support these last few years.
To CLIC Sargent, truly a wonderful supportive charity to run for. My only regret – what happened to those brilliant London training days that I attended a couple of times?
When "keithsmarathondream" was still a pipedream I started blogging using the realbuzz platform, and still post there. Thanks to all you guys, especially this time Kat, for such wonderful, uplifting support when I was really struggling towards the end this year. And of course especially to the inspirational Hollywood Dave and Mrs HD – wishing you both all the best at this time.
My wonderful extended running family, the Egdon Heath Harriers. So many more inspirational people there – to mention just a few of the great marathoners, to Brian, Nigel, Simon, Bruce, Paul, Richard, Gail and John, Bev, and the Frances's (not forgetting St George!).
All the "Egdon (and WSPH) Splitters" that I ran with at some time or another, Matt, Phil, Lucy, Alyce, Richard, Monica, Zara and Hannah. To Anna and Jane who each completed their first marathon this weekend in Dorchester. But even more, two other special ladies and new(ish) friends who I shared more runs with (and also those first few miles of London), to Stella and Jane – you've both been brilliant.
Of course, two other special friends, Mel and Kim (or Kim and Mel) and of course also Patrick and Jim and their families. And not forgetting "guest vocalist" Ellie who helped raise over £600 at our Brass Concerts.
And most of all, this time, official "training partner" Hayley (and of course Nathan, Will and George too). If you ever had any doubts about your ability to deliver, this year's marathon must surely dispel any of those. Yours was an awesome (and hugely merited) run which I so wished I could have kept pace with. I'd love to say get in there and start training again for next year. But there's a time and a place for everything. And there are things that are far more important than running (like family) so maybe this is not the time. But there will be a time, and when that time comes I hope you're up for the challenge 'cos I reckon you're well capable of something special.
(wipes a small tear from eye)
Don't Dream It – Be It
I've sometimes regretted choosing the name "keithsmarathondream" for the website. Why not "keithsmarathonblog" (I ask myself). After all, that's what it is. But then when this all started it was just a dream. I don't mean the sort of dream you do when you're asleep. I mean it was something that I wanted to make happen, and that's what I did. I made it happen. I made the dream a reality (hmmm – www.keithsmarathonreality.co.uk?).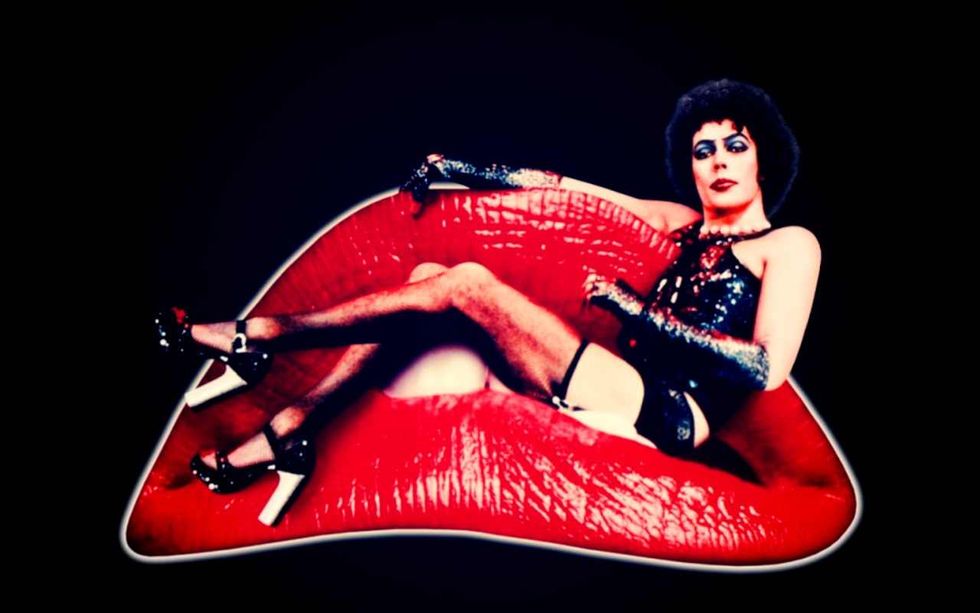 I've never had a "bucket list" but if I did, "Run The London Marathon" would have been right at the top. So what else would have been there? Two things for sure, "Visit Auschwitz" and "Ski The Vallée Blanche". And within these last twelve months both of those dreams have also become realities.
Approaching all three, my feelings could very much be summed up as a curious cocktail of trepidation, expectation and excitement. And then, after completing each, not surprisingly some very mixed emotions. But one thing for sure ... absolutely NO REGRETS.
Last Sunday – Dorchester marathon. Next Sunday – sixtieth birthday (crikey – how did that happen). Maybe time to start formalising that bucket list (already got a few ideas). Maybe time for yet more trepidation, expectation and excitement. But absolutely no regrets! In the words of the great Dr. Frank-n-Furter, "Don't Dream It, Be It" – Click here for a (slightly bizarre) musical interlude.
Thanks for reading,
xxx / manhugs,
Keith
Tell us your story
Inspire and be inspired by sharing your health or fitness journey. Your blog will provide you with a permanent record of your progress, with the added bonus of motivation and encouragement from our members along the way.
*
Manage my blogs