California Country parkrun
Posted on: 16 Mar 2019
For this week's parkrun I didn't want too long a journey so I took myself off to California.  By California, I don't mean the West Coast state of the USA, rather I headed for the less sun kissed option of California Country Park in Wokingham.
Wokingham is in Berkshire, lying about halfway between Reading and Bracknell.  It's another of those places quite near to where I live, which I have never previously visited.  I had always thought of Wokingham as a fairly modern place but in fact it comes with a lot of history attached.  The name derives from Wocca, an Anglo-Saxon chieftain.  The "Woking" were the people of Wocca and "Wokingham" was their home (though they might also have lived in Woking itself!)  In Victorian times the town boasted an alternative name of Oakingham.  That name is still recalled in the town's coat of arms which features oak leaves and acorns.
The first known mention of the place comes in 1146 when it is recorded as being amongst the lands of the Bishop of Salisbury.  It must have been an established town by then as it already had a church.  In medieval times it became well known for the manufacture of bells.  The Bell Foundry supplied many churches across the south of England.  A second industry grew up in Tudor times when many Flemish weavers arrived as refugees from the continent and built up a silk weaving business which made the town famous.
In the years 1643–44 Wokingham was regularly raided by both sides in the Civil War. These raids would involve the looting of livestock and trading goods, and over thirty buildings were burnt down, accounting for nearly 20% of buildings in the town at that time. It was not until the early 18th century that Wokingham had fully recovered.
From the late seventeenth into the early nineteenth century, Wokingham was known for  bull baiting.  This cruel sport took place in the Market Square.  A great many bulls were killed along with quite a few of the dogs attacking them and even the occasional spectator.  This horrendous sport was mercifully banned in the early nineteenth century.
Modern day Wokingham is a busy and thriving place with a mixture of old and modern buildings.  Some people commute into  Reading or London for work but there is also employment locally from technology firms and light industry.  The population is round about 32,000.  There is a Wokingham half marathon in February which is always a popular event.
California Country Park is on the western edge of Wokingham, part of the district of Finchampstead.  Why is it called California?  The story begins with a local businessman called Alfred Cartilage.  He acquired around 100 acres of woodland, heathland and marshland to the south-west of the town in 1931 and decided to make it into an amusement park.   He built a miniature railway alongside the lake and installed various fairground rides.  There was also a speedway track in a corner of the park.  He chose to name the new attraction "California in England" though eventually it became known as just California.  The amusement park closed down during the second world war but, when it resumed, it seemed to flourish for a while.  Here's a postcard from the olden days.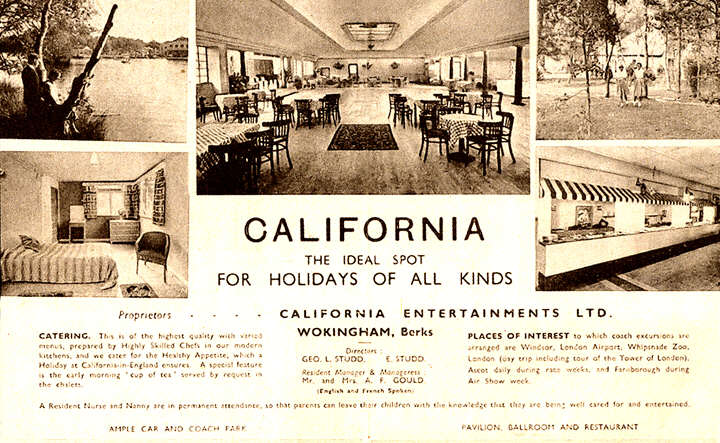 Eventually though the business declined and the amusement park closed.  Part of the park was sold off as a camping and caravan site (still there!) and the rest became California Country Park.  It would be a good place to bring children as there are still some nice facilities including a large playground, a  wooden walkway and a large paddling pool.
The parkrun here has only recently started up, this being just the fourth running.  The course is run on a mixture of firm surfaces and on dirt paths through the woods.  It is a slightly convoluted route starting with a loop around the woods to the east, followed by a long straight out and back along the path with finally another loop around the woods.  The parkrun has attracted quite a few runners in its early weeks (242 starters today) although, at this stage, the majority of them  are first timers and tourists.  The weather today was dull and grey with a touch of drizzle and it was quite blustery, though not as windy, I suspect, as in other parts of the country.
So off we went.  A young man, who looked like a serious athlete, shot off very quickly on the way to winning by over two minutes.  I followed behind in a large bunch.  I rather took the first lap through the woods as a warm up and was about fifteenth after one kilometre.  I got going on the long out and back section and moved up to seventh.  I wasn't sure of my pace but I reached the turnaround point in around ten minutes.  I found the second half a bit harder but I was holding on to seventh place until just before the line when three people sprinted past me at once!  So it was tenth place in the end in a time of 20:59.
So I was happy enough with that.  Do check out California if you live in the area, though you might prefer to wait a few weeks as they are doing a lot of building work in and around the car park.
My statistics for today - that was parkrun venue number 198.  I was first in my age group, first overall on age graded scores and I  set a new age category course best.
Somebody took a video of the inaugural run so if you'd like a quick glimpse  of the course, here it is in two minutes.
Tell us your story
Inspire and be inspired by sharing your health or fitness journey. Your blog will provide you with a permanent record of your progress, with the added bonus of motivation and encouragement from our members along the way.
*
Manage my blogs