Severn Bridge parkrun
Posted on: 04 May 2019
Happy Star Wars Day to you all!  May the Fourth be with you!   Long long ago (well this morning) in a galaxy far far away (well Wales) I felt the urge to add another parkrun venue to my total.  Sadly the force was not strong within me as I'm still struggling to regain fitness.  My back is slowly improving after my fall and it doesn't normally trouble me too much when I'm running.  But this week my arthritic left ankle decided to flare up and I was limping on that side.  I gave it a couple of days rest to see how it got on.  It wasn't perfect but I felt confident enough this morning to set off on the journey to the Severn Bridge.
The estuary of the River Severn (and the River Wye) separates the coast of Somerset and the Bristol area from South Wales.  For centuries anybody wanting to take a short cut across to Wales had only one option ... to risk the fast flowing waters in a boat.  Proposals for a bridge were put forward but it wasn't until the railway era that the first crossing was built at Sharpness (a bit further north than the present crossing) in 1879.  The original railway bridge lasted for around 80 years but was eventually worn down by the weather and the occasional collision and was demolished in the 1960s.  At around the same time a railway tunnel was constructed, opening in 1886.  It was one of the great engineering achievements of the Victorian era.  About 7 kilometres in length, the Severn Tunnel still carries around two hundred passenger and freight trains per day.
For car drivers travelling to South Wales there were, for a long time, just three options.  Firstly do a long detour northwards into Gloucestershire.  Secondly put your car on a rail shuttle and go through the tunnel.  The third option was to put your vehicle on the car ferry at Aust.  The ferry service here was slow, unreliable and could only carry seventeen vehicles at a time, so it was no solution to the problems of modern traffic.  Clearly a proper road bridge was needed.
The Severn Bridge was built in the 1960s at a cost of £8 million.  It was opened by the Queen in September 1966.  It carried the newly constructed M4 motorway on into South Wales.  Strictly speaking it comes in four sections.  From west to east you have the Wye Bridge,  over the estuary of the River Wye, then the Beachley Viaduct over the narrow peninsula which juts out into the estuary, then the Severn Bridge proper and finally, at the other end, the Aust Viaduct.  It was always intended that the bridge should pay for itself in tolls.  When it opened the charge for a car was 2 shillings and sixpence (12 and a half pence).  Towards the end it had risen as high as £6.70.  The toll was only charged on vehicles travelling east to west i.e. into Wales.  This sometimes led to humorous debate as to whether you should pay more to get into Wales or to get out of it!   All of this became immaterial in December 2018 when the tolls were finally abolished.  You'd have hoped they might have made back the eight million pounds by then!  A second Severn Crossing was built in the 1990s and opened in 1996.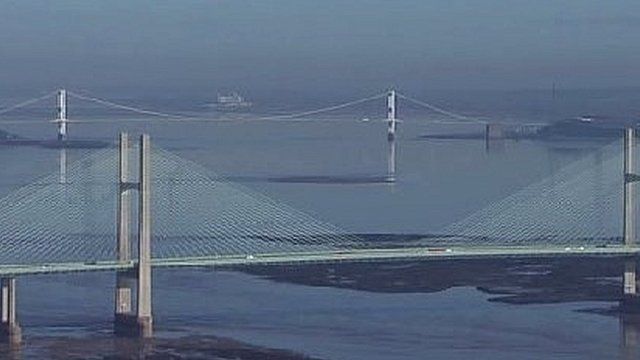 The parkrun course begins at the Chepstow end. As well as being the only parkrun on a bridge, it's the only parkrun that crosses the border from one country (Wales) to another (England)   The route is a straightforward out and back along the walkway that runs alongside the road.  In the first half it climbs slightly as you come up to the midpoint of the bridge but then, of course, you get more downhill on the way back.  The turnaround point isn't quite halfway because, on your return journey, you come back past the start point, then continue a couple of hundred metres down a side path and finish in a tunnel under the motorway.  I imagine it could be a reasonably fast course although the wind can make a big difference one way or the other.  Fortunately the wind wasn't too strong this morning.
In fact it was a lovely bright clear morning.  We had excellent views across the Severn Estuary and over to the second Severn Crossing a couple of miles away.  There were a couple of hundred runners gathered in the tunnel at the start.  A few had remembered that it was Star Wars Day (May the Fourth, remember?) and had come suitably attired.  I remember early on running alongside someone in a stormtrooper outfit!   I had no ambitions at all for this run, in light of my injuries.  I would be happy just to get round.  I was also a tiny bit anxious, in view of my dislike of heights, that I  might freak out when we got to the high point.  As it turned out, I was fine ... I didn't notice the height at all.  I started off in the middle of the pack and then eased into my running.  I gradually started to move through the field though without extending myself too much.  I reached the turnaround point (not halfway remember) in not much more than ten minutes, which was encouraging.  On the way back my ankle started to tighten up so I had to take it a bit carefully, though I was still passing people.  I was pleasantly surprised with my time at the end ... I managed 21:11 for 22nd place.  It shows that I am not too far off a good level of fitness if I can just shake off my injuries.
So I was pleased with my visit to Severn Bridge.  It's one of those stand out venues that every determined parkrun tourist should try to get to.
My statistics for today -  that was parkrun venue number 202, also my two hundredth in the UK (I have done two in Australia)  I was first in my age group and fifth overall on age graded scores.
To finish with, I shall include a video of the Severn Bridge parkrun course.  You can probably imagine for yourselves what it looks like -  it's back and forth along a bridge but here it is in YouTube form.
Tell us your story
Inspire and be inspired by sharing your health or fitness journey. Your blog will provide you with a permanent record of your progress, with the added bonus of motivation and encouragement from our members along the way.
*
Manage my blogs