Hanworth parkrun
Posted on: 16 Nov 2019
So where did I get to today?  I travelled to my NENYD - that's "nearest event not yet done" to you!  In my case, it turned out to be Hanworth parkrun in Feltham.
Feltham is part of that vast suburban sprawl in the southwestern corner of Greater London.  It would have been part of Middlesex when that county still existed.  It is situated just to the south of Heathrow.  Feltham actually has a history going back many centuries.  It is recorded in the Domesday Book as having 21 households and an area of ten cultivated ploughlands.  After the Norman Conquest, the manor of Feltham passed through the hands of several noble families depending on the whims of whichever monarch was in power.  Eventually in 1631 it passed to Francis (Lord) Cottington whose home and estate was at Hanworth Park.  We shall return to Hanworth Park when we talk about the parkrun.
Feltham grew steadily throughout the nineteenth century.  In this period it was well known as a centre of market gardening. A large area of greenhouses along Feltham High Street was known as the "Glass City". A local entrepeneur, A.W. Smith, was known as the "Cabbage King"  By the twentieth century, Feltham has been absorbed into the outskirts of Greater London.  Many of the thirty thousand residents nowadays work in nearby Heathrow or commute into central London.
Perhaps the most famous son of Feltham was Freddy Mercury who was born in exotic Zanzibar but grew up in more humdrum Feltham.  There is now a blue plaque on the house where he used to live, unveiled by his bandmate Brian May.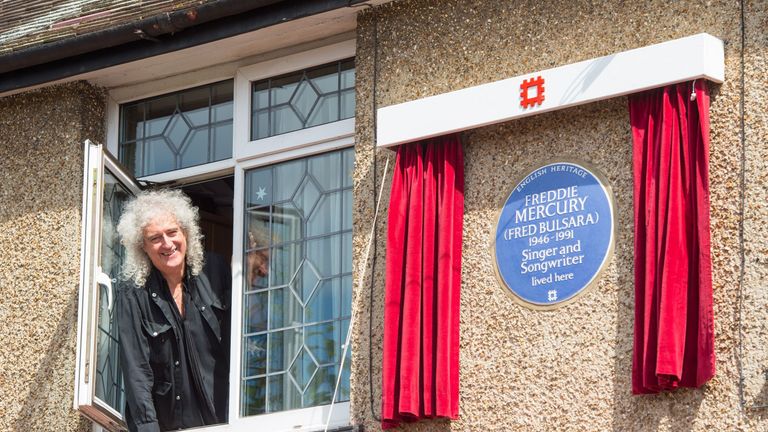 Feltham has a Young Offenders Institution, a kind of junior prison, which normally only gets in the news when there is some sort of riot.  More encouragingly, Feltham YOI was chosen as one of the first places for prison parkrun.  These have been going for a year or so and are seen as a way for offenders to reintegrate into regular society.  There are typically fifteen to twenty young offenders running around the prison grounds.
The 'normal' parkrun takes place in Hanworth Park or Hanworth Air Park as it is still sometimes called.  The park was once the grounds of a fine stately home.  The old manor house burnt down in 1797 and was rebuilt in the early 1800s by the Duke of St Albans.  The house was later used as a military hospital and a care home.  It is still there, in the corner of the park,  but is currently in rather a sad state having been empty and unused for quite a few years.  During the First World War, the estate was acquired by John Alexander Whitehead,  an aircraft manufacturer.  During the twenties and thirties, he developed the park into a major airfield.  Planes were built here, also trams and trolleybuses and there was an early factory for Aston Martin cars.  London Air Park, as it was called, gained popularity as the scene of air pageants and air races and many of the stars of early aviation, Louis Bleriot, Amy Johnson, Amelia Earhart, came here.  Another visitor was the German airship, Graf Zeppelin, which was a spectacular sight in the skies above Feltham.
After the Second World War and the opening of Heathrow in 1946, Hanworth Air Park became increasingly redundant.  It subsequently became a public open space, a broad area of grassland, some of it well tended, other areas allowed to grow into scrubland.  Feltham Community College is on the northern edge of the park and there is a large leisure centre to the east.  The course at Hanworth consists of two and a bit clockwise laps around the perimeter.  Around two thirds of the course is on firm paths, gravel or tarmac, maybe one third on grass, which today was rather muddy and slippy.   It was quite a decent morning for running, bright, not too cold.  Above our heads there was a steady stream of aircraft, taking off from nearby Heathrow.
There were 74 starters today, a bit less than average, but then there are a lot of parkruns in this area.  Bushy Park is only a few miles away.  Off we went.  I was slipping around a bit on the grassy sections but running more steadily on the paths.  I found myself running on my own fairly soon, which suited me fine.  I could just trot round at my own pace.  The first lap took me just over 11 minutes, the second lap was a smidgeon slower and then I needed a couple of minutes for the final run in to the finish.  In the end, I was in 13th place in a time of 24:38.  That was fine.  I'm still struggling for fitness but I'm slowly improving.  I quite enjoyed Hanworth.  If I were to come back though, I'd do it in the summer when the ground was dry.
My statistics for today - that was parkrun venue number 212.  I was first in my age group and sixth overall on age graded scores.  I am also restored to the status of being 'Londone', that is having done every parkrun in Greater London.  It was also my 249th parkrun altogether so next week I shall reach the milestone of 250.  Where am I planning to do it?  I shall leave that as a mystery!
Someone made a YouTube video of the course last week, so here it is, if you fancied a look.
Tell us your story
Inspire and be inspired by sharing your health or fitness journey. Your blog will provide you with a permanent record of your progress, with the added bonus of motivation and encouragement from our members along the way.
*
Manage my blogs