Fire Service College parkrun
Posted on: 14 Dec 2019
On we go.  I still  have the mission of getting my total of parkrun venues up to 250 and I've still got quite a few to go.  Lately I' ve been checking out the Tourist Tool app https://tinyurl.com/t38esv5  to choose where to go.  I've never been to a Fire Service College before and so today I headed off to Moreton in Marsh.
Moreton in Marsh is a small market town on the eastern edge of Gloucestershire, situated within the aptly named Cotswold Area of Outstanding Natural Beauty.  It lies on the River Evenlode which sounds lovely and like something out of Tolkien, but it did cause problems with flooding in winter until a new flood relief scheme was built.   It is close to the Four Shire Stone, which marks the meeting point of the ancient counties of Gloucestershire, Worcestershire,Warwickshire and Oxfordshire.  The origins of the name - it was clearly a town on a moor and/or a marsh.
Moreton has a history dating back at least as Roman times when the ancient Fosse Way passed through here.   By the 11th century the town was the property of Westminster Abbey and from 1222 to 1226 the Abbott began developing Moreton as a market town, creating the wide High Street for this purpose. In the late 1220s building of the town began on common land bordering the Fosse Way, to the north-west of the original Saxon settlement, still known as 'Old Town'.  Moreton was mainly a centre for agricultural industries, wool being the main product of the town and its surroundings.
By the 17th century the town's population was around 500, the establishment of a linen-weaving factory in 1742 encouraging further growth. Moreton's inns offered shelter for the many weary travellers passing through - at one point in the 1820s some 70 coaches were rattling through the town each week. The opening of a horse drawn tramway to Stratford-upon-Avon in 1826 - followed by the mainline from Worcester to Oxford in 1853 - created an increase in population.  The town continued to grow slowly throughout the twentieth century and its population now stands at around 3,500.
On the eastern edge of town there is a fairly flat area and it was here, in 1940, that they constructed a large RAF airfield.  RAF Moreton in Marsh was used mainly as a training base for bomber pilots flying Wellington bombers, though occasionally planes from here took part in actual bombing missions.  A large number of RAF personnel passed through here. It is believed that it partly inspired the radio series "Much Binding in the Marsh" which was very popular in the forties and fifties.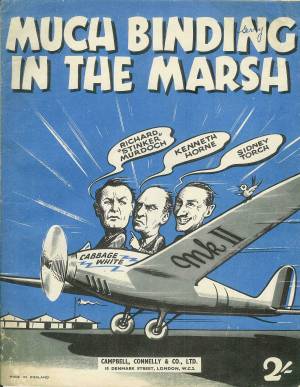 Moreton in Marsh remained in the hands of the RAF well into the fifties.  It was later handed over to the Home Office and a new use for the site was found when it opened up as Britain's Fire Service College in 1968.  The college welcomes firefighters from all around the UK and from quite a few other countries as well, to do their basic training and to study the latest fire fighting techniques.  The site has accommodation for up to 600 trainees as well as leisure and sporting facilities.  There are various concrete reconstructions of houses, tower blocks, industrial units, ships and aircraft which are routinely set ablaze so that the students can practise putting them out.  One of the old runways has been converted into a motorway, Britain's most exclusive motorway - the M96.  No traffic flows along the M96.  Instead it is used to teach trainees how to deal with traffic incidents.   The college has been training firefighters for over fifty years now.  The one startling incident in its history was, ironically ... a fire!  In 2009 a blaze broke out in one of the workshops, destroying 11 valuable fire engines and causing over a million pounds worth of damage!
The parkrun here started about a year ago and today they were celebrating their fiftieth running.  The route consists of three laps around the playing fields, which are bisected by a narrow strip of woodland.  It is mainly on grass, though the short stretches through the woods are on tarmac path.  It was rather muddy and slippy today and you had to take care going round the corners.  The course had been altered slightly today around the bottom field, I  assume to avoid a particularly muddy stretch.
There were 114 starters there today to celebrate the fiftieth running.  The organisers had gone to some trouble to make this a special occasion, providing music and cake for afterwards.  Unfortunately nobody had contacted the weather gods!  It was rather cold this morning and, as 9 o'clock approached, it started to rain!  No matter - we parkrunners are a hardy bunch!  I hadn't expected to see anyone I knew so far from home but just before the start I bumped into a guy I see regularly at my local parkrun at Hogmoor Inclosure.  We looked at each other as if to say, "What are you doing here?!"
Off we went.  I kept up a fairly steady pace and managed to move up through the field as the run progressed.  My first lap came round in 8:40 and my second and third laps were much the same.  My final time therefore was 26 minutes exactly.  That was fine - scarcely burning up the course, but nearly two minutes faster than I managed at Kingdom two weeks ago.
My statistics for today - that was parkrun venue number 215.  I was first in my age group and eleventh overall on age graded scores.
Anyway that was Fire Service College done.  I had assumed that I wouldn't have to come to this part of the world again but just today they started up a new parkrun at Chipping Norton, so I shall have to return, maybe next year when it's a bit warmer!
If you'd like to see Fire Service College on video, then here it is in YouTube form.  It's three laps, so when you've seen the first lap, you've seen them all.
Tell us your story
Inspire and be inspired by sharing your health or fitness journey. Your blog will provide you with a permanent record of your progress, with the added bonus of motivation and encouragement from our members along the way.
*
Manage my blogs