University Parks parkrun
Posted on: 02 Apr 2022
I was delighted to be heading back to Oxford for my parkrun today.  I have been to the city twice before to take part in parkruns but on those occasions the events were on the outskirts of the city.  University Parks parkrun would be right in the middle of what we would consider to be the real Oxford, amidst those dreaming spires.
I have a great fondness for Oxford.  I didn't go to university here myself but I had friends who did and I would visit them here.  I have been here many other times for various events, shows and exhibitions.  For anyone who has any regard for intellectual endeavour, Oxford is a thrilling place to be.  I have covered the history of Oxford in previous blogs so instead I shall offer you ten reasons why Oxford is a great place to be!
Oxford is the oldest seat of learning in the English speaking world.  There is evidence of teaching happening here as early as 1096.  The first colleges, University College and Balliol, were built in the middle of the thirteenth century.
Oxford frequently tops the rankings list of the world's top universities.  In the 2022 list it is in second place behind Massachussetts Institute of Technology.
27 British Prime Ministers were educated at Oxford University.
19 English cardinals and 20 Archbishops of Canterbury have graduated from Oxford.
Students from Oxford University have won 158 Olympic gold medals.
Oxford's Ashmolean museum was the first in the world to be opened to the public.  It opened in 1683.
Roger Bannister was a medical student at Oxford.  It was here, on the Iffley Road track, that he ran the first sub four minute mile in 1954.
Blackwells bookshop is the largest such establishment in the world.  Within its premises there are around three miles of shelving and 150,000 books.
Oxfam. The Oxford Committee for Famine, was founded in Oxford in 1942.  The original Oxfam headquarters in Broad Street is still an Oxfam store today.
Oxford has always been a great place for fantasy literature.  In the nineteenth century there was Lewis Carroll.  In the twentieth century, C.S. Lewis and J.R.R. Tolkien.  There is a bench dedicated to Tolkien in the University Parks.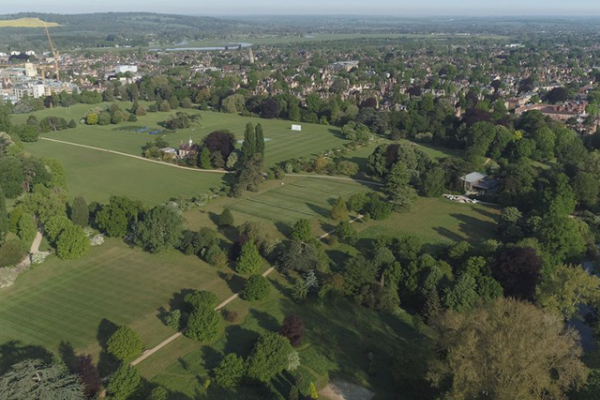 There are a lot of green spaces in Oxford.  The University Parks lie fairly central, on the banks of the River Cherwell.  The park was originally acquired from Merton College in 1853 and later enlarged and developed into formal parkland.  There used to be a spot on the river bank called Parson's Pleasure, where young gentlemen could go bathing and later a women's equivalent called Dame's Delight.  Sadly these spots are no longer in use.  Later additions include a pond, a cricket field and tennis courts.
University Parks parkrun is a recent addition to the parkrun family, starting up at the beginning of February.  It seems to have become very popular very quickly, both with tourists and with locals.  Because of its catchment area, it seems to welcome a large number of fit looking younger runners.  The course … well they seem to have changed it more than once during its brief history ,,,, but they now seem to have settled on a two lap route, looping around the perimeter of the park.  The course is largely flat and on compacted gravel paths.
It was a lovely bright morning, just a little bit chilly.  There was a good turnout of just over 300 runners, quite a few tourists and a lot more young athletes than I would normally see at a parkrun.  We set off down a narrow path and soon settled into a good pace.  I could see a grey haired guy just up ahead and, fearing he might be in my age group, I tried to catch him.  I never did!  In fact he pulled away from me towards the end.  Never mind.  I passed the halfway mark in around 10:40 and then slowed just a little bit on the second lap to finish in 21:36.  That was fine, about what I had been expecting although it's been a while since I finished as low as 66th!  Too many youngsters ahead of me!
Statistics for today - that was parkrun venue number 252.  I was second in my age group and eleventh on age graded scores.
There are a few YouTube videos of University Parks but I chose this one because it shows the course we ran today.
Tell us your story
Inspire and be inspired by sharing your health or fitness journey. Your blog will provide you with a permanent record of your progress, with the added bonus of motivation and encouragement from our members along the way.
*
Manage my blogs