Back And Fourth
Posted on: 11 Dec 2016
July 27, 1996 and a new phrase enters our consciousness – the "Steve Redgrave Moment" when, in the immediate aftermath of winning his fourth olympic gold medal, he declares "Anybody who sees me in a boat has my permission to shoot me". Roll forward four years, Sydney, and there is Steve in the men's coxless four, winning his fifth olympic gold. Hmmm – nice bulletproof vest, Steve.
A poor comparison I know but roll on again to May 14, 2014, barely a month after I became a marathon runner, completing London on a charity place supporting CLIC Sargent, and the day that I unashamedly blogged "This is no 'Steve Redgrave' moment. I state categorically that I would NEVER EVER dream of taking on a charity place again".
Roll on to August 2016. I feel this strange need to repeat the London experience. But we all know the ballot is a waste of time, and Good For Age (or "GFA" as we like to refer to it) remains a speck on some distant horizon. We have discussed this elsewhere – there are three ways to improve your GFA prospects:
1) Run faster
2) Grow older
3) Sex change (n.b. this one is a bit of a one way street – i.e. only works for us chaps)
To date I have failed with #1, #2 has proved ineffective, and I am not (yet) prepared to contemplate #3.
Sod it – run a quiz night ... maybe a band concert ... and hopefully the old faithful supermarket bucket collection ... email CLIC Sargent and Bob's yer uncle, I am, once more, running on a charity place (with £2k fund-raising commitment).
Roll on to October 2016 – and reports of "Sorry" mags and emails arriving through letterboxes and in-boxes in Potteresque proportions. Return home ... magazine on mat ... rip off the wrapping ... well b£$$%r me sideways ... "YOU'RE IN". Hmmmm – I feel a plan hatching.
Well, after the success of August's quiz night, I already have around £1k in the pot. But now I have no actual need to raise anything more at all. But I already have next year's band concert arranged. Avid readers of this blog (haha – as if there would be any of those!) should be aware of my oft referred to "running nemesis" Mrs Kim Fudge. I just wonder if she would be able to take up my place. But I know how immense and time consuming the associated fund-raising can be. But then again any further money I am able to raise could lessen that burden. And whilst she has been struggling a bit with her running this last year or so, Kim did complete Weymouth's inaugural Half Ironman in September (a not insignificant achievement).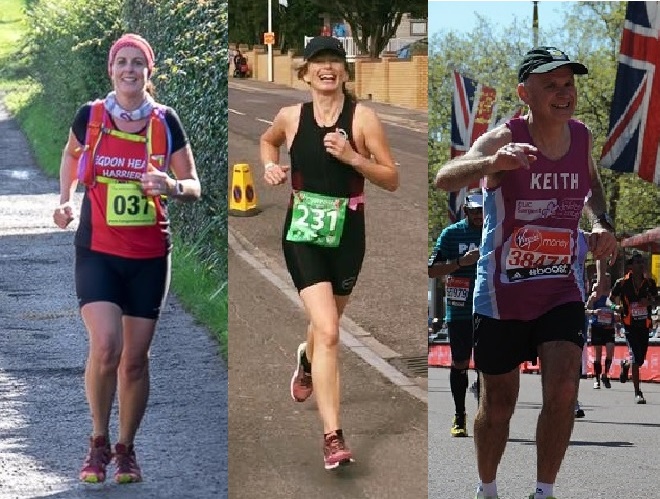 So I put the idea to her (suggest she makes sure that half Ironman in waiting Mr Jim Fudge is happy with it) and before I know it Kim is in. And what's more Hayley, who did training runs with me when she ran London two years back, has signed up too. We have a team!!!
Our current running journeys all started pretty well at the same time, back in the summer of 2013, when we started attending Egdon Heath Harriers summer runs for new(ish) runners. And now we are going on a bit of a team outing "Egdon Runs London For CLIC Sargent".
This might just be the thing to get me blogging again – I seem to find the time to write weekly long winded reports on the content of various reality TV shows , but that's another story. Surely I can find the time to write weekly updates on our progress. And hopefully Kim and Hayley will wade in with some of their own thoughts too :-)
#egdonrunsforclic ... www.justgiving.com/egdonclicrunners
Oh wait – things move quickly here (unlike the runners) – as of today (Thursday) we are joined by a fourth protagonist – iron lady Mel!! - Mel'n'Kim reunited – these two are notoriously dangerous when left unchecked!
Hang onto your hats, and fasten your seat belts (literally).
Keith
Tell us your story
Inspire and be inspired by sharing your health or fitness journey. Your blog will provide you with a permanent record of your progress, with the added bonus of motivation and encouragement from our members along the way.
*
Manage my blogs